Twain Harte Homelessness Contract Extended: Columbia Site Discussed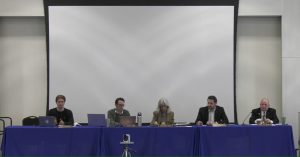 Tuolumne County Supervisors

View Photo
Sonora, CA — The Tuolumne County Board of Supervisors heard some concerns from residents in Twain Harte about expanding the contract to temporarily house homeless residents at the El Dorado Motel on Twain Harte Drive.
It came up at this week's board meeting.
It was noted that during the height of the COVID pandemic, in November of 2021, a contract of $60,000 was negotiated to temporarily house residents there. The motel ownership group had responded to a request for proposals from the county. The contract was later boosted to $175,000, through June of 2022, and yesterday it was expanded to $375,000 through June of 2023.
Through the end of last year, the motel in Twain Harte has housed 82 people through the program, including seven families. The average length of stay has been about 12 weeks.
The extension of the contract was on the board's consent agenda this week, meaning that it was bulked with other items that were expected to be uncontentious. However, four members of the public voiced concerns related to the housing of unsheltered residents at the site in Twain Harte, and questioned whether the board was being transparent about it.
In the end, the board voted 5-0 to extend and expand the contract. During the discussion, many board members noted that homelessness is a complicated issue. District Two Supervisor Ryan Campbell stressed, "There is no cheap way to address homelessness, and at the time this was set up, we as the board wanted to structure it as a hand up and not a handout.  All of the people staying at the El Dorado Motel are receiving case management and they are all required to search for permanent housing."
Some community interest has also been generating about a separate item discussed at yesterday's meeting, which is likely related to helping the homeless population. The board met in a closed session for property negotiations, only noting that the land is at 22646 Parrotts Ferry Road in Columbia. That property is the Columbia Inn Motel, which is currently publicly listed for sale, for $1.7-million. The county is not commenting about the property negotiations because there are legal constraints related to closed-session items. However, it is believed to be connected to better housing the homeless population, as the county leaders who took part were Homeless Services Coordinator Michael Roberson, CAO Tracie Riggs and Capital Improvements Director Maureen Frank. No public comment was made after the closed session, indicating that no official action was taken. It could come up again for discussion at future meetings.