Attempted Murder Arrest In Jamestown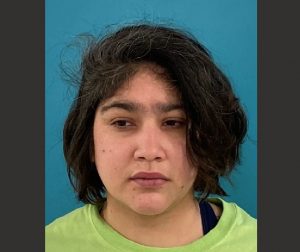 Catrina Marie Espinoza

View Photo
Jamestown, CA — A woman was arrested for attempted homicide over the weekend, and the Tuolumne County Sheriff's Office is providing details about the incident.
29-year-old Catrina Marie Espinoza allegedly went into a residence on Kanaka Drive in Jamestown and attempted to stab a victim several times with a kitchen knife. The victim, who officials identified as her mother, was able to escape the home.
The sheriff's office reports that deputies soon responded, announced their presence, tried to de-escalate the situation, and asked Espinoza to come outside. Instead, she locked the home's doors and refused to exit.
Officials were able to get a key from the homeowner. However, the sheriff's office relays, "When the deputies unlocked the door and began opening it, Espinoza quickly ran towards the door and used her body to try and force the door closed and barricaded it with her body. A deputy tried to stop Espinoza from barricading the door by using his body to prevent the door from being closed. Espinoza reached out toward the deputy and clawed his face with her hand, causing injury to the deputy. Espinoza physically resisted the deputies until they were able to gain control of her and take her into custody."
In addition to attempted murder, Espinoza is charged with burglary, battery on a peace officer, assault with a deadly weapon, and obstructing an officer. She was also booked on a felony warrant out of San Jose. Her bail is set at $500,000.