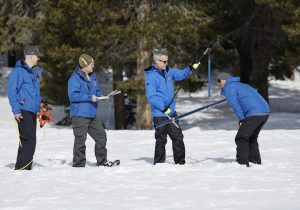 DWR Manual Snowpack Reading

View Photo
Lake Tahoe, CA — The second manual Sierra snowpack survey of the year was held yesterday by the California Department of Water Resources at the Phillips Station near Lake Tahoe, and things are still looking very strong.
Spokesperson Sean De Guzman says, "We recorded snow depth of 85.5 inches, and a snow water content of 33.5 inches. That results in 193% of average for the date, and 137% of April 1 average (end of the typical wet season) at this location."
It is the largest amount recorded by the DWR on February 1st in 28 years.
The electronic sensors up and down the Sierra show even more snow than what was recorded at Phillips Station. De Guzman says the statewide average is estimated to be around 205% of average for the date.
However, DWR Director, Carla Nemeth, is warning that more precipitation is still needed to fully break away from the multi-year drought. She says, "While today's results are good news for water supplies, we know from experience how quickly snowpack can disappear if dry conditions return in the months ahead."