Unconscious Woman In Vehicle At Shopping Mall No Medical Emergency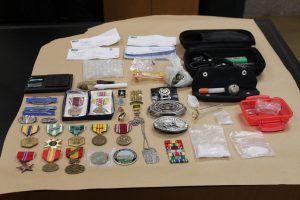 Stolen items seized by CCSO deputies

View Photo
Valley Springs, CA – A caller recently reported an unconscious woman inside a parked vehicle at a Valley Springs shopping center, but it was no medical emergency.
Calaveras County sheriff's deputies headed to the Valley Oaks Center strip mall off Highway 26 in Valley Springs. There they found 36-year-old Rehnee Briggs of Lodi slumped over the vehicle's center console. After waking her, deputies found no medical emergency, but noticed drug paraphernalia on the steering column, according to sheriff's spokesperson Lt. Greg Stark.
A search of her vehicle uncovered about 23 grams of suspected methamphetamine, drug sales items, stolen military medals and dog tags. There was also mail addressed to 16 different individuals.
Briggs was arrested for felony possession of a controlled substance for sale, transportation of a controlled substance and possession of 10 or more personal identifying information.
Lt. Stark stated that this is still an active investigation, "Deputies are in the process of contacting the victims of the mail theft, medals, and the owner of the dog tags."