California's Snowpack Nearly 250% Of Average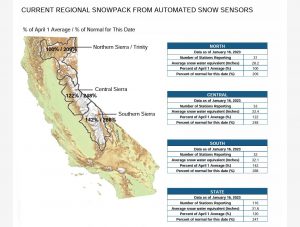 CA Snowpack Levels for 1-17-23

View Photo
Sonora, CA — The atmospheric river storm events over recent weeks have really boosted the state's Sierra Nevada snowpack levels.
Electronic sensors this morning estimate that the statewide average is 247% of normal for the date. The Northern Sierra is at 209%, the Central Sierra (includes Mother Lode) is 248%, and the Southern Sierra is 288%.
Breaking down the numbers further, in relation to the total average seasonal snowpack through April 1st (end of the water year), the state average is already at 120% of normal.
While the precipitation has caused some unwanted flood damage and roadway impacts over recent weeks, it is a big benefit when comes to reversing the course of a multiyear drought.
Some of the state's water reservoirs, however, still need a ways to go to catch up. The California Department of Water Resources reports that the water level at New Melones is now 66% of the average for the date and 38% of total capacity. Don Pedro Reservoir is faring better at 107% of the average for the date, and 75% of capacity.