Unruly Vehicle Passenger Handcuffed After Resisting Arrest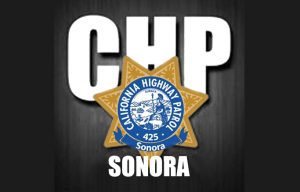 CHP-Sonora-Unit-logo

View Photo
Tuolumne County, CA – Two men were arrested, one for DUI and the other for resisting arrest, after a traffic stop near the Tuolumne and Stanislaus County lines.
A CHP officer recently pulled over a vehicle for a possible drunk driver on Highway 120 and found not only the driver but also his passenger to be intoxicated. The driver, Balvillo Medina, was arrested without incident for DUI. The CHP reports that 26-year-old Stephen Page of Twain Harte was ordered to get out of the vehicle's front passenger seat several times, but refused and became combative.
The officer was able to remove him, but when trying to handcuff Page, he reportedly began to struggle with the officer. He was eventually taken into custody. A search of his person uncovered a fixed-blade knife in his waistband. Page was arrested for felony carrying of a dirk or dagger, which is illegal in California. He also faces misdemeanor charges of disorderly conduct and obstructing a peace officer.