Tis the Season to TreeCycle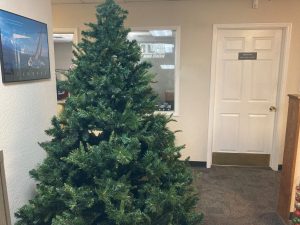 Christmas Tree MML Photo

View Photo
University of California Cooperative Extension (UCCE) Master Gardeners support foothill-friendly, "smart" gardening. Two of our principles are:  Feed the Soil, and Recycle. How can you follow those principles in disposing of your cut, green Christmas tree and other Christmas packaging materials?
Real Christmas trees are a renewable, recyclable resource. You may wish to chip your Christmas tree and use it at home as mulch or compost. Or, you may want to help reduce the waste stream by recycling your Christmas trees.
From now through January 31, 2023, Tuolumne County residents have the opportunity to recycle their live, non-flocked Christmas trees for FREE. Just remove everything from the tree, including the stand, lights, ornaments, wire and tinsel. Then drop it off at one of two disposal locations in Tuolumne County.
Or, if you have curbside collection service, contact your waste hauler to schedule a pickup. It's that easy.
Christmas trees must be free from tinsel, decorations and nails and may be dropped off at the following locations:
Cal Sierra's Earth Resource Facility at 14909 Camage Avenue in Sonora, CA 95370 They are open Tuesdays through Saturdays from 9:00 am – 4:00 pm.
Big Oak Flat / Groveland Transfer Station located at 10700 Merrell Road in Groveland, CA 95321. Their hours are Wednesdays and Saturdays from 8:00 am to 4:00 pm.
For those residents who have curbside collection service, please contact your service provider and arrange to have your tree picked up. Please note that this is a limited service and certain conditions may apply. Following are the phone numbers for curbside collection providers in Tuolumne County:
Burns Refuse Service, Inc. (209) 928-4251
CAL Sierra Disposal / Waste Management (209) 532-1413
Moore Brothers Scavenger Co., Inc. (209) 962-7224
If you have a vehicle and can haul your tree to Cal Sierra's Earth Resource Facility, you may bring home a load of mulch for FREE.  Mulch can cool soil temperatures in summer and provide insulation to tender plants in winter. Use it to reduce dust on roads, driveways or paths. It adds additional nutrients to your compost. Applied a few inches deep, mulch helps prevent the growth of weeds and helps conserve water in the soil.
Your Christmas tree, taken to the Earth Resource Facility will be ground up into mulch. It may be used as an additive for compost at a local facility, used locally at area farms and ranches, taken to a co-generation plant to be burned and used to generate electricity, or offered for sale at the Earth Resource Facility.
Styrofoam Recycling: In addition to recycling your holiday tree, hang on to that white rigid shipping material known colloquially as "Styrofoam."  Master Gardeners will again be collecting it this spring, tentatively in March. Details will be posted on MyMotherLode.com.
The Christmas tree recycling program is sponsored by: the Tuolumne County Solid Waste Division, Burns Refuse Service Inc., Cal Sierra Disposal/Waste Management, and Moore Brothers Scavenger Co., Inc. For questions or additional information please contact the Tuolumne County Solid Waste Division at (209) 533-5601 or check them out on the web at www.tuolumne.ca.gov.
From all of us in the UCCE Central Sierra Master Gardener program, Tuolumne County Solid Waste Division and the Regional Recycling Group, we wish you the happiest of holidays and successful recycling and reuse of all your holiday materials.
Rebecca Miller-Cripps is a University of California Cooperative Extension Master Gardener of Tuolumne County.