Twain Harte Store Clerk Nailed For Drug Sales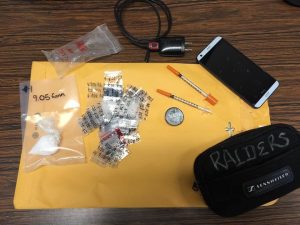 Drugs Irwin gave narcotis detectives

View Photos
Twain Harte, CA — The drug bust happened at the Twain Harte 7-Eleven where he was reportedly selling meth during his shift.
The Tuolumne County Sheriff's Department reports the arrest happened Thursday night at 10 p.m. after receiving a tip about employee, 43-year-old Bryan Scott Irwin, selling narcotics while working at the store.  Irwin was on duty when detectives from the narcotics team contacted him and questioned him about the allegations.  Irwin admitted he had sold narcotics in the past. He then pulled a black pouch from his pocket and gave it to the detectives, according to sheriff's officials.  Inside was a plastic bag containing more than nine grams of methamphetamine, two hypodermic needles, and numerous empty small Ziploc style bags.  Detectives took him into custody.
Irwin was booked into the Tuolumne County Jail for possession of methamphetamine for sale and narcotics paraphernalia.