YCCD Board Elects Chair and Vice Char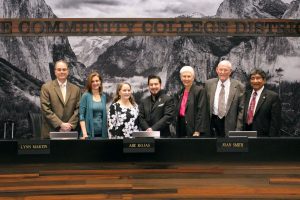 YCCD Board of Directors

View Photos
The oath of office was given to new members, and leadership appointments were made, for the Yosemite Community College District Board of Trustees.
The seven member board oversees Columbia College and Modesto Junior College. The oath was administered to new members Darin Gharat (Area 5), Leslie Beggs (Area 6) and John Rodriguez (area 7). The oath was also reaffirmed to Anne DeMartini (Area 4). They join incumbent board members Lynn Martin (Area 1), Don Viss (Area 2) and Abe Rojas (Area 3). Of note, Martin represents the Mother Lode area.
Demartini was selected to serve as chair for 2017, replacing Rojas. Gharat was picked to serve as vice chair.
In addition, Rojas was selected to serve on the Association of Stanislaus County School Boards, Martin to the Columbia College Foundation Board, Viss to the Modesto Junior College Foundation Board and DeMartini to the Great Valley Museum Foundation Board.
The YCCD covers a 4,500 square mile area and serves a population of over 625,000. It encompasses all of Tuolumne and Stanislaus counties, and parts of four others, Calaveras, Merced, San Joaquin and Santa Clara.
One of the early tasks will be to select a new YCCD Chancellor to replace outgoing Dr. Joan Smith.