Alleged Marijuana Mugger May Have Ties To Other Robberies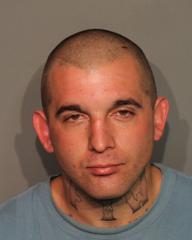 Kevin Cucuk, CCSO Booking Photo

View Photos
San Andreas, CA — Calaveras law officials have arrested a man in connection with a recent alleged armed robbery of a marijuana grow, who may also be tied to similar incidents.
Saturday night just before 8 p.m., investigators located Kevin Louis Cucuk, 25, of Pioneer, hiding at a residence on Pine Cone Lane in West Point and booked him into the Calaveras County Jail. He was wanted in connection to an incident that occurred a few days previous to his arrest, for which he now faces charges of robbery; attempted homicide; kidnapping; false imprisonment; assault with a deadly weapon; also being a felon in possession of a firearm.
The alleged robbery occurred last Tuesday. Calaveras sheriff's officials say just before 3 p.m. the office received a report of a marijuana robbery on Bummerville Road near West Point. Responding to the incident, deputies talked with a victim on-scene who said a man arrived at the location while he was trimming marijuana.
The suspect, later identified as Cucuk, reportedly approached the victim, pointed a gun at his face and ordered him not to move. The victim was then allegedly ordered by Cucuk to walk a short distance away and sit down. At that point, Cucuk allegedly placed a large amount of marijuana onto a tarp and then ordered the victim to retrieve a nearby dirt bike-type motorcycle, which he subsequently used to escape with the pot-filled tarp.
According to investigators, the victim also reportedly overheard Cucuk talking to another person within earshot but was not able to see that individual. The owner of the marijuana allegedly arrived within a minute of the robbery, investigators heard, and walked with the victim toward the back of the property, where they both observed a person driving away on a bike. The victim also said that sudden shots were reportedly fired from two different types of firearms in his direction.
Investigators add that the victim estimated to them that the loss of marijuana was valued at approximately $5,000; the motorcycle at $2,500.
The Calaveras County Sheriff's Office has received information that Cucuk has been involved in other robberies of marijuana in the area and advises anyone victimized by Cucuk to contact the CCSO Investigations Division at 209 754-6564 or 754-6500.