BLM Lifts Fire Restrictions On Mother Lode's Public Lands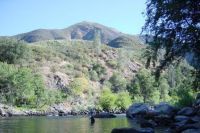 Tuolumne River

View Photos
Sonora, CA — Recent rains in the foothills are the reason that the Bureau of Land Management (BLM) officials today lifted fire restrictions on some of its public lands.
BLM officials are still emphasizing that folks need to use an abundance of caution. The move affects BLM Mother Lode Field Office-managed lands not only in Tuolumne and Calaveras counties, but also those in Stanislaus, Mariposa, Nevada, Yuba, Placer, Amador, El Dorado, Sacramento and Sutter counties.
In tandem with clearing the restriction Fire Management Officer Jerry Martinez indicates homeowners should "take responsibility" by maintaining 100 feet of clean, open space around their residences in order to provide defensible space, which, in the event of an uncontrolled wildfire, improves the chance that their lives and properties can be protected.
Those with questions or looking for more details on BLM fire restrictions may directly contact the Mother Lode Field Office at 916 941-3101 or access its website by clicking here.