Butte Fire Tree Mortality Moves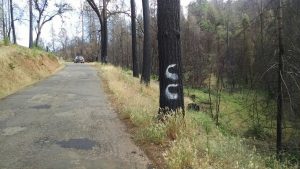 Calaveras County trees marked for removal

View Photos
San Andreas, CA – Calaveras County has hired a new tree removal contractor while extending the deadline for property owners in regards to dealing with their dead wood.
The Board of Supervisors, at a special meeting Tuesday, hired Phillips and Jordan from Knoxville, TN to remove the hazardous trees resulting from the deadly Butte Fire. The contract is for a total of $9,775,053.39 and expires on August 31, 2017.  Eight major criteria were used to determine what firm would be awarded the contract, among them, understanding of the work, experience with similar work and cost. County Spokesperson Sharon Torrence says that the county was not obligated to take the lowest bid as FEMA and CalOES will be footing the bill and their specific guidelines must be met. However, she adds, "They [Phillips and Jordan] will be hiring local people to participate as crews that will do the tree removal and hauling." She did not have an exact number of potential hires but notes that each crew is typically made up of ten people. To apply call the Tree Removal Hotline at 209-754-6767.
Additionally, the deadline for submitting private land Right of Entry Permits (ROE) for burnt tree removal has been extended to Friday, August 19. Torrence notes, "We haven't received all the right of entry forms back. This program has a limited duration. We are trying to get everybody to get their forms in before their times runs out as far as the program funds go and they'll be no cost to them." She stressed that with a contractor now on board it is more important than ever to get the permits signed and returned to the Department of Public Works.
Of note, the county's Tree Mortality Task Force, challenged with identifying and prioritizing dead tree removal areas to protect public infrastructure and develop a plan that includes disposal, has a new webpage that can be found by clicking here and includes Right of Entry Permits.