It's Graduation Time In The Mother Lode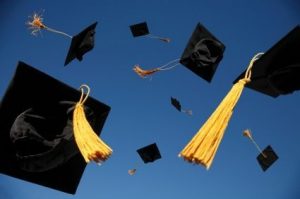 Graduation Caps

View Photos
Sonora, CA — Come Wednesday, more than a week's worth of commencement activities will set off sparkler-like across the Mother Lode, burning brightly through Saturday before the final sizzle next Saturday.
The celebrations begin Wednesday at 5 p.m., as seniors from the alternative educational Dario Cassina, Theodore Bird and Sonora Adult schools in Sonora High School District step up to claim their sheepskins in a ceremony that will be held in the Sonora High gym. Graduation exercises for Sonora High School seniors are scheduled to get underway Thursday on the recently renovated Dunlavy field at 7 p.m.
Wednesday at 6 p.m., Bret Harte High School District seniors attending John Vierra and Vallecito high schools will graduate in a ceremony that will be held in the theater. Friday at 7:30 p.m., Bret Harte High seniors will assemble for their graduation, slated to start at 7:30 p.m.
Wednesday at 7 p.m., Summerville Union High School District kicks off three days' worth of ceremonies, leading off with the alternative educational graduation for the seniors of South Fork, Mountain, Cold Springs and Long Barn high schools as well as the district's Independent Study Program (ISP). Thursday at 5 p.m., Connections Academy graduates its students in a presentation that includes student performances, all of which will take place in the theater. The Summerville High graduation follows on Friday at 8 p.m. in the stadium.
Friday, Big Oak Flat Groveland School District stages commencement exercises for Tioga High seniors at Tioga Field, beginning at 6 p.m. Saturday, Don Pedro High seniors walk in a ceremony that will take place in the school gym at 2 p.m.
The last to graduate in the Mother Lode, Calaveras High School seniors will have the opportunity to toss their caps in the air on Thursday, June 9, which is also the last day of classes for the school. The ceremony is scheduled to commence at 7:30 p.m. on the school field.