Last Load Of Butte Fire Debris Leaves 851st Property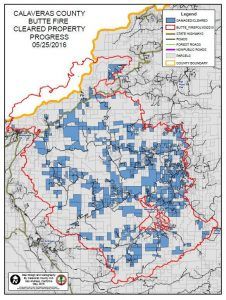 Butte Fire: Cleared Properties Complete, May 26, 2016

View Photos
Mountain Ranch, CA — Elated, Calaveras County's Butte Fire officials celebrated Thursday what they describe as impressive proof that the county is well on its way to recovery following the deadly nearly 71,000-acre wildfire.
The Butte Fire, which ignited last year on Sept. 9, was contained on Oct. 1. Clean-up efforts required a massive multi-agency response that harnessed local, state and national resources. Debris removal operations on what turned out to be 851 properties finally wound up on Thursday with a final haul-out that provided not only an official closure for phase one recovery operations, it served as a memorable coda for the 32-week effort; 222 days, to be exact. Calaveras County Butte Fire Recovery Operations spokesperson Sharon Torrence figures it was just a little over two weeks from the fire's containment that the first property was cleared on Oct. 16.
Torrence confides, "It didn't seem fast for the people who had to go through it, but for what [the crews] accomplished in that amount of time was amazing. Considering where the properties were located and that…some properties had upwards of 20 burnt vehicles that had to be removed…taken to another location and gone through to find ownership — it was a monstrous task."
District 5 Supervisor Steve Kearney and County Administrator Shirley Ryan were among the local officials who joined Torrence to watch the final loads leave three remote properties over a temporary bridge, specially constructed for the purpose, as the property owners' original rustic bridge perished in the fire. (To view the Butte Fire debris removal of completed properties map and an image of the temporary bridge, click in the upper left image box.)
Fire Recovery Operations Facts
Sharing other debris removal stats, Torrence recounts that the workforce in the field reached 331 at its peak with more than 200 hired and trained locally to fulfill their positions. Field crew teams of 10 were each generally staffed with laborers, operating engineers, truck drivers, water tenders, traffic control, safety officers — and others, as needed. Initially six crews set out last October but due to the enormity of their tasks, more were trained and assigned; so that by this past February, 31 crews were working seven-day work schedules in the burn area. Thursday's personnel included just two crews under the supervision of CALRecycle Operations Chief Todd Thalhamer.
Contractor and overhead costs have not yet been compiled and are not expected for another 60 to 90 days, according to Torrence. She indicates that the rough estimate for the clean-up operations is somewhere around $60 million, as indications to date show that the costs per property will conservatively average in excess of $50,000.
Looking back over the past eight-and-a-half months, Torrence remarks, "The calls that I receive from people with issues has really diminished. I was getting many…now, I am getting maybe one a week with a small issue…there aren't any of the monumental ones. I used to go home and…be depressed because of how things were and how they appeared — and [today] makes me feel really good — I am looking forward to the next phase."
Next recovery steps, Torrence says, include the supervisors' approving the hiring of an arborist, who will help facilitate massive burnt tree removal operations along county roadways within the burn area. That item is scheduled to be addressed at the board's June 15 meeting.