Less Trash Than Last Year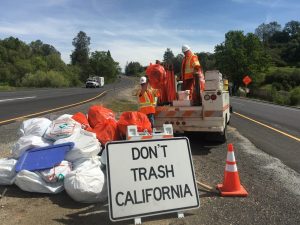 Caltrans litter collected on Highway 108 in Tuolumne County

View Photos
Stockton, CA – While Caltrans found less garbage littering the regions highways, motorists should not pat themselves on the back just yet.
Caltrans held its statewide Litter Removal Day and Enforcement Day this past Thursday. Although this region of the state had fewer bags of trash this year, 1,552 down from 1,982 last year, Caltrans spokesperson Angela DaPrato notes, "We had crews out a couple of weeks before 'Litter Day' collecting debris because it was a safety hazard. We can't just let it go waiting for that day. If crews see it piling up, it must be picked up as soon as possible."
The total cubic yards of trash collected in the one day event was almost 222 throughout District 10, spanning eight counties, including Tuolumne and Calaveras. Caltrans provided this breakdown for the amount of litter collected in each county:
San Joaquin County:  560 bags (80 cubic yards)
Stanislaus County:      240 bags (34 cubic yards)
Merced County:          224 bags (30 cubic yards)
Tuolumne County:      282 bags (40 cubic yards)
Calaveras County:      19 bags (almost 3 cubic yards)
Mariposa County:       34 bags (almost 5 cubic yards)
Alpine & Amador Counties: 193 bags (almost 28 cubic yards)
In Tuolumne County, the litter was picked up in two locations; along Highway 108 just past Draper Mine Road to East Avenue and Highway 120 from the Tuolumne/ Stanislaus County line to Green Springs Road.
In Calaveras County, cleanup took place along two sections of Highway 4; from Red Tail Hawk Road to the Arnold Byway and the Calaveras/Stanislaus County Line to O'Byrnes Ferry Road, and on Highway 26 from the San Joaquin/Calaveras County line to Highway12.
As previously reported in 2015, Caltrans crews collected a total of 324 bags, or 46 cubic yards in the Sierra foothill counties, as that year no breakdown was given for individual counties. Using 2014 data, DaPrato reports that Calaveras County's bag count went down dramatically from 98 in 2014 to 19 this year.  However, Tuolumne County went in the opposite direction, with a jump to 282 bags this year from 108 bags in 2014.
Caltrans notes that last year it spent $76 million to remove 153,000 cubic yards of garbage across California highways, which was enough to fill almost 10,000 garbage trucks parked end-to-end and stretching more than 51 miles.