Plans For Rawhide Bridge Subject To New Studies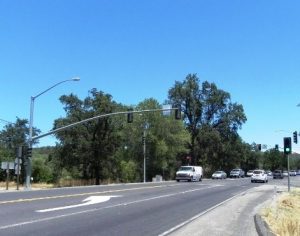 Rawhide Road and Hwy 108

View Photos
Sonora, CA — After much grudging the Tuolumne County supervisors approved adding nearly $96,000 in contractor design services for the long-delayed Rawhide Road Crossing Woods Creek Project.
A 2014 contract for $1.3 million with Quincy Engineering already covers surveying, necessary engineering, plans and specs completion as well as preliminary construction support for the replacement of the historic Jamestown bridge. Plans to replace it and realign Rawhide Road have been in the works since the 1990s.
At the onset of the discussion during the Tuesday Board of Supervisors meeting, District 2 Supervisor Randy Hanvelt remarked, "I am just disappointed that we can't get this right. I hope that we can get this thing done. We have been going at it 18 years…I get calls about this routinely, and when it showed up on the agenda, a bunch of people asked me again. We need to just get with it, that's all."
Field Findings Trigger New Requirement
While most of the studies required for the NEPA and CEQA environmental evaluations were included in the original scope of the contract, archeological findings at the site triggered a public field meeting with county staff, Caltrans and members of the Tuolumne Band of Me-Wuk Indians last December, after which Caltrans determined that an additional study and cultural survey was in order. The work is set to be performed by Area West Environmental, which included in its outline that it would prepare an evaluation plan that builds upon somewhat similar recent work for the Sonora Bypass Project.
County Community Resources Agency Supervising Engineer Tanya Allen indicated that, once the supervisors approved the amendment, the work could be expedited so the project could clear NEPA requirements in time for its deadline next September. That would allow construction to begin sometime in 2018
Local carwash owner Dave Scheller, whose business off Jamestown Road stands to be impacted by the project, showed up to complain that he and other nearby business owners have not been kept up to speed about plan developments. He was also sharply critical that the county had yet to perform a study on the potential economic impacts of the realignment and signalization aspects. As planned, Scheller stated, it would require potential customers coming down Highway 108 from Sonora to drive a mile-and-a-quarter past his business before they could redirect back because there would be no way to make a left turn onto Jamestown Road.
Airing Bridge Project Business Impacts
While Scheller did not specifically threaten a lawsuit, which, he opined would further muck up the project schedule and interfere with its ability to retain federal funds, he suggested that the county might get him to go away by simply connecting Rawhide and Jamestown roads — and eliminating the bridge — or buying his property. Community Resources Agency Director Bev Shane pointed out that the previous board already rejected the former of the two ideas due to past public support for preserving the historic bridge.
Further explaining the complexities that have ensued, Shane recounted, "Back in the 2000s, the county was growing like crazy. We were having a lot of construction…the traffic generation was indicating that we needed to install a traffic signal at Fifth Avenue and widen the highway throughout Jamestown. Again, things change — it was reevaluated, and we then proposed to separate the two projects in order to keep it moving. This is one of those projects that we all want to see done. We have just had a lot of hurdles to get over. We are getting close, but as you know, under NEPA and CEQA, you determine baseline studies that determine a need for further studies, and so that is why we are here today."
District 3 Supervisor Evan Royce griped that the lengthy process and setbacks were making the county look bad. While also noting frustration, District 4 Supervisor John Gray maintained that the latest kink in the project was due to the Caltrans decision that triggered the need for the cultural study.
Supes Require New Economic Report
In making his motion to approve the added scope to the Quincy Engineering contract, District 5 Supervisor and Board Chair Karl Rodefer added a caveat that county staff prepare a full report with analysis on the economic impacts of the project to nearby businesses, along with mitigation measures. It was passed in a unanimous vote.
"With the amount of money that is — pardon the pun, under the bridge already — I don't think now is the time to go and reinvent the wheel and start all over again," Rodefer summed up. "I'll trust that the previous board made the best decision they thought they could make at the time, given the situations presented to them — it would just be way, way too expensive to just trash everything."