Beer Garden And New Office Space May Be Coming To Sonora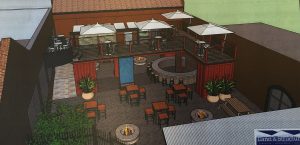 Artist rendering of planned beer garden

View Photos
Sonora, CA — A new beer garden is hoping to get the green light in Sonora after developers postponed their first permit request in January.
The Sonora Beer Garden is being proposed by the owners of the Bourbon Barrel, Trado Restaurant and will be on the same lot at 198 S. Green Street. As previously reported, the developer will be asking for a Design Review Permit from the Sonora Planning Commission at its Monday meeting. The business would utilizing existing storage space on the property for the outdoor beer garden and a specialty bottled beverage and food shop. Additionally, live music could be played periodically. City of Sonora Community Development Director Rachelle Kellogg says that if approved the developer plans to start the renovations within weeks.
The commission will also be asked to approve a rezoning change to Tourist and Administration on the west side of South Stewart Street from Williams Street to Restano Way. Kellogg says that will allow for office space, restaurants, hotels and banks.
The planning commission meeting is set for Monday at 5:30 p.m. at city hall in downtown Sonora.