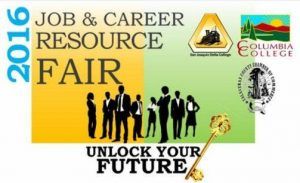 Calaveras County Chamber of Commerce Job and Career Resource Fair

View Photos
San Andreas, CA — The Calaveras County Chamber of Commerce may help you get your foot in the door and land some interviews for a new job.
The Chamber will be holding a Job and Career Resource Fair where individuals can meet with employers who are offering full and part time positions. Not sure what career is right for you? The fair also offers specific information about skills needed to go into a range of career fields. San Joaquin Delta College and Columbia College are hosting the event and will have representatives on hand.
"This is a fantastic opportunity to make connections with potential employers", says the Chamber Executive Director, Staci Johnston. "The Job & Career Resource Fair will hold a wealth of information for those both looking for employment and seeking to change careers."
Additionally, there will be "Table Talk" Sessions on topics including resume building, best interviewing practices, and tips on customer service. Organizers says job seekers should bring their resume and come dressed to impress. There is no fee to attend the fair, which runs from 4 p.m. to 8 p.m. on March 10 at the San Andreas Town Hall located at 24 Church Hill Street in San Andreas.