Governor Declares Feb. 6 Ronald Reagan Day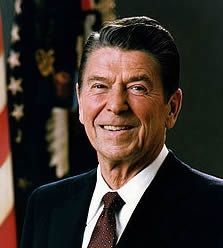 Ronald Reagan

View Photos
Sacramento, CA – This weekend, ahead of tearing into those Super Bowl hot wings, it might be considered appropriate to toss back a handful of jellybeans for the Gipper.
Today, Governor Jerry Brown issued a proclamation declaring Saturday Feb. 6 Ronald Reagan Day across the state. Not a state holiday, it is nonetheless intended to honor Reagan who served with distinction both as a US president and California governor and rose to become an iconic American figure in his own right. This will be the fifth consecutive year the state has remembered Reagan in this way. Back in 2010 former State Senator and current Board of Equalization member George Runner introduced legislation to commemorate Ronald Reagan Day on Feb. 6, 2011, the 100th anniversary of Reagan's birth, which unanimously passed the Senate. That year, governors in 21 states issued proclamations to that effect.
Fondly referred to as "The Gipper," Reagan earned the nickname during his Hollywood silver screen days, after playing the part of star Notre Dame football player George Gipp in the 1940 film Knute Rockne: All American. Ahead of the movie's clutch game scene, he uttered the line: "Sometime when the team is up against it and the breaks are beating the boys, tell them to go out there with all they've got and win just one for the Gipper." Later, while seeking his first term in The White House, he famously riffed off the quote, using "Win one for Gipper," as a campaign slogan. Once elected, his fondness for a specific brand of jellybeans, "Jelly Bellies," became well-known, as he kept a jarful of them on his Oval Office desk.
Governor Brown's Official Proclamation Text
From his humble Midwestern origins, through a successful career in Hollywood, and on to the highest offices in his state and country, Ronald Reagan lived the California dream.
On this 105th anniversary of his birth, we remember not only his most celebrated achievements–his successful diplomacy with Mikhail Gorbachev and the economic recovery that occurred under his presidency. We also remember the turbulent years of his governorship, during which he proved his ability to manage the affairs of the state, and earlier, the talent and the skill he brought to his work in one of our state's most renowned and beloved industries.
Above all, we remember the man: his irresistible optimism, faith, and good humor. As a way to honor his memory, I recommend that Californians give as generously as they can to the Ronald and Nancy Reagan Research Institute.