GOP: Lift Obama's Ban On Crude Oil Exports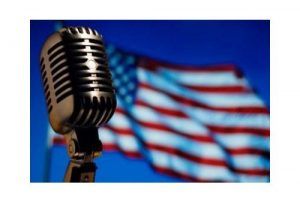 Microphone and US Flag

View Photos
Texas Congressman Mike Conaway gave this week's Republican address, talking about Republicans' efforts to get rid of the nation's ban on crude oil exports.
Conaway was Tuesday's KVML "Newsmaker of the Day". Here are his words:
"These days, you're hearing a lot about America's energy boom, about how it's creating jobs and revitalizing industries. Much of this is thanks to the genius, gumption, and hard work of the men and women of our energy industry – many of whom hail from District 11 in West Texas that I get to represent.
It's great to talk about this. But time and again, we've seen Washington stifle successes. In fact, this boom has happened in spite of the Obama administration's efforts to block production anywhere and everywhere it can.
So we can't take anything for granted. That's why we're working hard right now to lift the federal government's ban on crude oil exports.
You may not even have realized that we have this ban in place, but we do, and it's costing American jobs.
It's outdated, also. Many of us remember what happened back in the 1970s, when gas prices quadrupled almost overnight. The government responded by putting a cap on gas prices. But instead of protecting consumers, it just caused long lines at the gas station and rationing.
So the government's next step was to put in place a ban on oil exports. The idea was to prevent that price-controlled oil from flowing overseas, and to try and control our own energy destiny. But as we all know, the export ban did not protect us from world oil prices and it did not allow us to control our own supply.
Times have changed. Far from being addicted to foreign oil, we are in the midst of a crude oil renaissance right here at home. All the ban is doing now is holding back economic development in every state of our union.
Lift that ban and we could see close to a million jobs created in just a few years' time. Not only that, but according to the Government Accountability Office, if we lift the ban, consumer gasoline prices will drop.
Lower fuel costs don't just make road trips more affordable; they also help nearly every industry that uses energy – from agriculture to shipping. And that means good jobs get created here, not overseas.
And there is this. Right now, we see Vladimir Putin using Russia's energy supply as leverage to control Europe. The president's deal with Iran actually opens the floodgates for Iranian crude oil to come flowing back into the market. The idea that Iran can export oil while our own domestic producers can't is just flat out wrong. Lift the ban now and we help our friends and our allies around the world. Having stronger allies makes us stronger in a world getting more dangerous by the day.
So: more jobs. Lower prices at the pump. A more secure country. Those three things are high up on any list of the American people's priorities. Lifting the ban will advance all three goals at once. It's a proverbial win-win-win.
Now, here's where we are. The House has just passed H.R. 702, a bill that will lift the ban. We've gotten great support from farmers, manufacturers, unions, and state leaders around the country.
But instead of listening to the American people, this president is threatening to veto the bill, saying it's not needed. Well, let me tell you, if you talk to the workers in District 11, where I get to represent, and you talk to the people who have been laid off in this tough economy, they'll tell you that this bill is absolutely necessary. The president should and must listen to the American people, and help us lift this export ban today.
Because again, the energy boom is great to talk about. And it's a great story. But now we have a chance to actually do something big to keep this great American success story going.
The outdated policies of the 1970s should not and must not limit the possibilities of the 21st century.
Thank you for listening. God bless each one of you, God bless Texas, and God bless the United States of America."
The KVML "Newsmaker of the Day" is heard every weekday morning on AM 1450 KVL at 6:45, 7:45 and 8:45 AM.