Rivalry Delivers On The Gridiron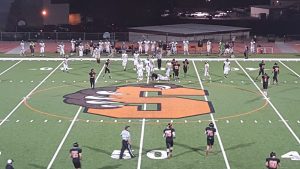 Summervill vs Sonora at Thorsted Field

View Photos
An inter-county rivalry did not disappoint in week seven of the High School Football Season.
Sonora or Summerville, whichever one you backed in the inter-county rivalry, both teams played with a lot of heart Friday night. In the first half, the Wildcats continued to have problems finding their stride offensively. However, the defense kept a potent Summerville offense to only two touchdowns with Sonora's Kane Rodgers picking off the pigskin to stop a Summerville drive.  One of those touchdowns came from Bear's quarterback Travis Rodgers who sailed down the field 88–yards to put up six points on the scoreboard with the score Cats 27 Bears 14 at half-time.
In the second half, the Wildcats turned up the offense lead by Nate Gookin who had three touchdowns. The Bears tried to keep up, but Sonora's defense tightened down making some big tackles to stop Summerville's offense. The final from Thorsted Field was 48-26 as the Wildcats picked up their sixth straight victory in the season.
In other games, Bret Harte beat Linden on the road 21 to 13 and Calaveras defeated Argonaut at home 26 to 7.