Wildfires Burn Across State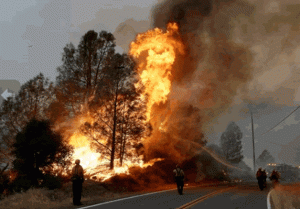 2015 Rocky Fire in Lake County

View Photos
Over 9,000 firefighters are helping to extinguish 21 major wildfires in California.
The largest is the Rocky Fire in Lake County, north of Sacramento, burning over 60,000  acres. The fire has burned 24 homes and 26 outbuildings. It is 12% contained. Thousands of homes are evacuated.
70 lightning fires have combined to burn 2,038 acres in Humboldt County. Those fires are considered 10% contained. The Big Creek Fire outside of Groveland is now 85% contained and remains 204 acres. The Willow Fire in the Sierra National Forest in Madera County is 5,656 acres and 60% contained. Several homes are still evacuated.
The Lowell Fire in Nevada County is 2,304 acres and 85% contained. The Advance Fire in Tulare County is 86 acres and 85% contained. The Swedes Fire in Butte County is 400 acres and 95% contained.
Drift smoke from fires remains prevalent in the region.