Update: Fires Burning In Stanislaus National Forest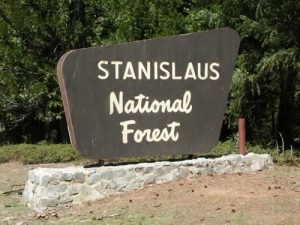 Stanislaus National Forest

View Photos
Update at 3:35 pm: Forest Service Spokesperson Georgia Dempsey says the new Reservoir fire near Donnell was started by lightning. The smoke was initially spotted by a patrol unit. The fire has since increased to two acres and is burning in timber. There is an engine and a type-two crew from New Mexico, plus local Unit 3 and a tanker helping, as well as a patrol unit. Two handcrews are hiking in to the location along with 3 engines, 1 helicopter and overhead personnel. Dempsey says resources may become stretched as the fire season wears on. She reminds people to be "super careful" when they are traveling through forests. "So many things can cause fires, chains dragging behind a boat or pulling over a hot car into the dry grass, " she warns. "This is the time of year we can't afford any of that."
Original Post at 5:10 pm: The Forest Service reports that the Rosasco Fire is now contained, but a new fire was spotted this morning near Donnell Reservoir.
The 3.4 acre Rosasco Fire started on Tuesday, west of Cherry Lake, and north of Woods Ridge. Forest Service Spokesperson Georgia Dempsey says, "It is a heat signature left over from the Rim Fire. It's burning in deep duff layers, which is what is making it difficult to extinguish. It is contained, but we continue to work on it." Duff is a the ground layer of mosses, lichens and other organic materials.
Also, a new fire, called the Reservoir Fire, was reported this morning near Donnell Reservoir. It is estimated to be one acre in size and burning in timber. Two hand crews have been dispatched, as well as three engines, one helicopter and overhead personnel.
Of note, the Forest Service also has resources assigned to the Big Creek Fire outside of Groveland, which is being led by CAL Fire. Included is the Groveland Hotshots team, dozer 52, engine 43 and crew 41.