Four Arrests In Glencoe Confrontation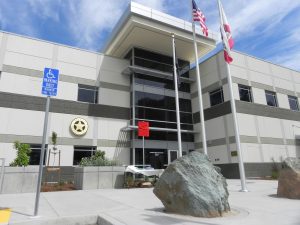 Calaveras County Jail

View Photos
Glencoe, CA — A Glencoe report of trespassing by three individuals, later charged with public intoxication, led to four arrests.
A Calaveras Deputy was sent to a home in the 19000 block of Highway 26 where a property owner, her daughters and deputy could hear yelling from in a canyon area. The property owner told the Deputy she was on her private property with her daughters when she observed three male trespassers. The owner confronted Michael Pinon, 22 years old, Donald Pinon, 19 years old, and a 14 year old minor. The suspects were upset and reportedly bumped into the landowner and threatened to hit her.
A neighbor, Edward Huss, 73 years old, responded to the property and observed the disturbance. As the trespassers began to run from the property, Huss fired a warning shot in their direction. The suspects came back to confront Edward Huss and made several threats. The Deputy used pepper spray to attempt to establish order, but Donald Pinon did not comply and began to punch Huss.
The Deputy was able to restrain Donald Pinon and place him in the patrol vehicle. Pinion repeatedly head butted the door window of the vehicle, breaking it. A second Deputy arrived to help control the scene, in the end arresting the three identified trespassers and the neighbor, Huss.
The charges are as follows; Donald Pinon is charged with Elder Abuse, Criminal Threats, Public Intoxication, Vandalism, Contributing to the Delinquency of a Minor, Trespassing, and Resisting Arrest: bail was set at $62,500.
Michael Pinon was arrested for Public Intoxication, Contributing to the Delinquency of a Minor, Trespassing, and Criminal Threats: his bail was $50,000.
The youngest suspect was charged with Public Intoxication, Vandalism, Trespassing, Battery, and being a Juvenile Law Offender.
Edward Huss was booked for assault with a Deadly Weapon: his bail was $50,000.