Snowpack Is "Virtually Gone"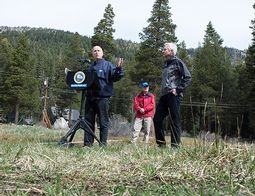 Snow Pack Reading Phillips Station April 1, 2015

View Photos
Sacramento, CA – The California Department of Water Resources (DWR) found the water content is only 5% of the historic average at its Wednesday's manual reading.
DWR officials along with Governor Jerry Brown, who as earlier reported was slated to attend the reading at Phillips Station near Echo Summit, found only grass.  DWR spokesperson Doug Carlson says, "This is remarkable, disturbing, and sobering."
State water officials report this is the first time in 75 years of April surveys at this location no snow was found.  Carlson adds, "These readings have been going on since 1941 and the average over all those years…was 66.5.  That's 5 ½ feet.  There was no snow, and that's never happened before."
DWR officials report four years ago today, the measured depth at Phillips was 124.4 inches.  The previous low for the date was 25 percent in 2014 and 1977.  Traditionally the snow pack is at its peak by early April before it begins to melt.  Carlson says this means, "the amount of water going into the reservoirs will be…almost nil."
Electronic readings indicate the water content of the northern Sierra snowpack today is 1.4 inches for the date.  The central and southern Sierra readings were 1.5 and 1.3 inches respectively.
Additionally, the DWR says eight weather stations have recorded 31.7 inches of precipitation since October 1 of the year, which is 76% of the historical average for April 1. Carlson notes that tree rings have shown California to have had droughts lasting as long as 20 years.