Endangered Bighorn Sheep Released At Yosemite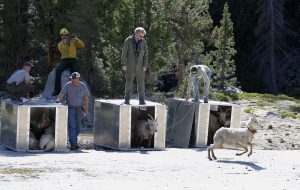 Yosemite National Park Sierra Nevada Bighorn Sheep Release
Yosemite National Park, CA — Helicopters have successfully flown endangered Sierra Nevada Bighorn Sheep into Yosemite and Sequoia national parks as part of a major restoration effort to gradually re-build herds within the parks.
Yosemite National Park spokesperson Ranger Scott Gediman shares that park officials are "beyond ecstatic" to have completed the latest segment of the restoration efforts for the sheep, which was conducted last week in inter-agency partnership with the Department of Fish and Wildlife Services, Sequoia National Park and Inyo National Forest, among other agencies. (To view footage of the release, click the video link in the upper left image box.)
"We restored nine ewes and three rams that were moved into the heart of Yosemite wilderness," Gediman explains, adding that the individuals, released into their native habitat within the Yosemite National Park Cathedral Range, were isolated both for habitat and to limit contact with other animals while they acclimate to their new surroundings.
Adding to the excitement, Gediman adds, "Of the nine ewes that were moved, eight are pregnant, so that's great news…they'll give birth sometime late April, May…we are hoping with…the lambs being born that we'll be able to augment the population even more." Ewes each normally give birth to one lamb, which, typically weaned in five months, becomes independent within a year.
Biologically Integral to the Alpine Eco-system
With the mammals' rugged alpine backcountry location, love of the high mountain elevation levels between 7,500 and 12,000 feet and ability to blend in well with the surrounding environment, Gediman says it is possible but not likely that many visitors will get a glimpse of the park's newest residents. However, he states, "Just knowing that they are there is incredibly important, both biologically and for the management of the national park."
The goal is that they will eventually join other herds. Small herds of bighorn first reintroduced to Yosemite National Park in 1986 that still persist may sometimes be seen summering along Sierra crest peaks at Mount Dana and Mount Gibbs. The park, along with support from the Yosemite Conservancy and the California Department of Fish and Wildlife plans to annually build upon this year's release effort. "It is a huge step and the [sheep] seem to be doing well," Gediman notes. He says that each will remain monitored through the use of GPS collars so that biologists are able to track herd numbers and travel as part of their ongoing scientific analysis.
Sierra Nevada Bighorn Sheep numbers, now estimated at 600, are up from a low of just over hundred around 2000. Clearly, Gediman says, "We still have a ways to go but this multi-year recovery effort is huge." The only endangered mammals at Yosemite and Kings Canyon national parks, the sheep genetically differ from the Desert Bighorn Sheep in southern California and those seen in the Rocky Mountains. The restoration of the sheep, one of the park's Signature Centennial Projects as it enters commemorating the 100th Anniversary of the National Park Service, is an activity that is receiving extra emphasis as well as funding, according to Gediman. "This [restoration] is incredibly important. One of the things that the national parks are all about is not only the great beauty in the landscapes that we enjoy here in Yosemite but the diversity in the wildlife, of which the Sierra Nevada Bighorn Sheep play a big part."
In addition to the sheep released last week in Yosemite, seven ewes were moved to Sequoia National Park's  Laurel Creek area and it is expected that three rams will be additionally located there early this week.