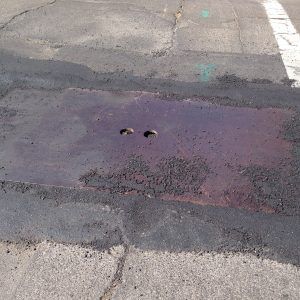 Stewart Street Sink Hole

View Photos
Sonora, CA — No parking signs have been put up along Stewart Street between Lyons and Theall Streets this evening in anticipation of that section being closed to traffic tomorrow. However, that all depends on whether an AT & T engineer can make it to Sonora by tomorrow according to Public Works Supervisor Bill Seldon.
"Just to prepare motorists, we've scheduled for street closure on Wednesday, Thursday, and Friday beginning at some time from 7 a.m. until 3 p.m. each day," says Seldon.
As reported last week, a concrete slab believed to be part of an AT&T conduit halted the repairs. The roadway was re-opened to traffic last Friday night after two steel plates were placed over the sinkhole.