Woman Arrested For Identity Theft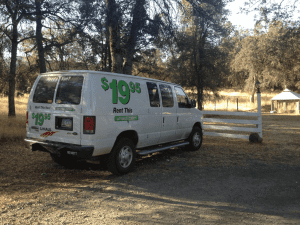 U-Haul van involed in crime

View Photos
Tuolumne, CA — A parked van aroused a neighbor's suspicion and led to the arrest of a transient woman in Tuolumne.
The incident happened last Friday at 11:30 pm after a resident called the Tuolumne County Sheriff's Department reporting a suspicious U-Haul van parked in the area.  Deputies found the van and saw 32-year-old Jennifer Weaver walking away from the area, prompting them to question her. The deputies then searched Weaver and the van. They found a small amount of methamphetamine, drug paraphernalia, a diamond tester; items used for identity theft, as well as, suspected stolen mail and credit cards.
Sheriff's officials say based on evidence found in the van, Weaver is now suspected of an identity theft case in the county.
Weaver faces several felony charges including Possession of a Controlled Substance, Possession of Narcotics Paraphernalia, Attempt to Defraud with another's Identification. Her bail is set at $35,000.00 dollars.
Sheriff's officials say investigators are looking into Weavers recent activities to see if she can be linked to any other crimes.