Summerville Stadium Opening Delay?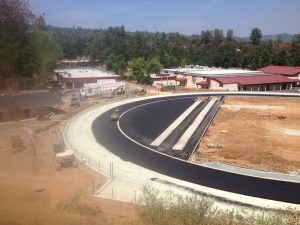 Summerville Stadium Construction

View Photos
Tuolumne, CA – School officials had hoped the Summerville Stadium would open on October 3 for the football team's home game against Bret Harte.  However, completing the concrete bleachers in time will be "iffy" according to Superintendent Robert Griffith.  He says crews are still pouring the concrete bleachers.
"I'll be honest it would be very tight at this point," says Superintendent Griffith. "We're not cancelling playing here yet, but we'll know that week whether it's going to be done that week or not, and that's what it's coming down to."
If that game cannot be played at Summerville, the contingency plan is to use Sonora High School's field. Griffith adds, "We are still looking to get some games in this season at the new stadium and we'll know more as the construction unfolds."
One piece that is ready for some football is the field. Griffith says the turf is in place.
On another note, the Board of Trustees will take up the issue of public access to the stadium at its meeting tomorrow. The Trustees could decide on a stadium use agreement, which includes fee increases, limited hours of usage, and restrictions as to what will be allowed on the field. Some of the items to be banned include dogs and gum.
Griffith says, "It is a balancing act between allowing the public to get in there [the stadium] and get some exercise versus our responsibilities as a district to the very same people who voted to have it built, and expect us to protect it for the years ahead."
The Summerville Board of Education's meeting is tomorrow night at 6:30 pm in the school's library.