New Details Regarding An Armed Robbery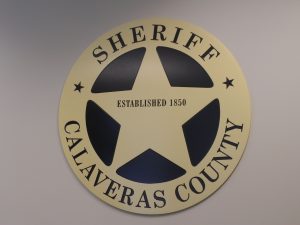 Sheriff Calaveras County

View Photos
West Point, CA —The Calaveras County Sheriff's Department has released new information surrounding an armed robbery this morning in West Point. West Point Elementary School was put on lockdown while deputies searched for the robber armed with a gun. The school reopened shortly after deputies secured the campus. However, the suspect is still at large.
As, reported earlier, the armed robbery happened around 8:30 this morning on the 22000 block of Hwy 26 in West Point. Sheriff's Officials have now released this new information.
"The suspect contacted a female victim at gun point while she was opening a business," says Sgt. Anthony Eberhardt. "The suspect asked the victim to empty her pockets and place all of her personal items into a black duffle bag. The suspect proceeded to ransack the business and took an undisclosed amount of money."
The suspect then left the business on foot running through an empty field towards Main Street. Eberhardt reports the weapon was a black semi-automatic handgun. Click here for a description of the suspect.