Prepare To Return To School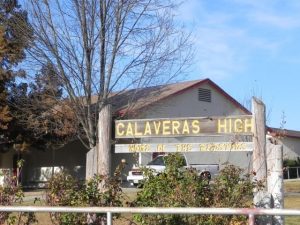 Calaveras High School

View Photos
Summer vacation will be ending soon for some students in the Mother Lode. For Calaveras High School and that district, which includes elementary schools in San Andreas and Mokelumne Hill, school starts next week on July 29th. Bret Harte High School and that district will start school on August 20th.
All Tuolumne Public Schools including; Sonora, Summerville, Don Pedro, and Tioga high schools, and all the elementary schools, will open on August 20th. Gold Rush Charter, Mother Lode Christian, and Mother Lode Adventist Jr. Academy will also open on August 20th. Sierra Waldorf will have the first day of school for grades 1st-8th on September 3rd and Kindergarten will start the following day. Classes begin August 25th at Columbia College.
All new and returning students need to register, and must pick up a packet of information to review and complete. Jamestown registration forms can be picked up on August 7th or 8th and returned on August 12th and 13th. Times to pick up and return the information are in their event listing here. Columbia Elementary packets need to be picked up on August 11th or 12th and returned on the 13th and 14th.
Contact your school for information about their registration process.