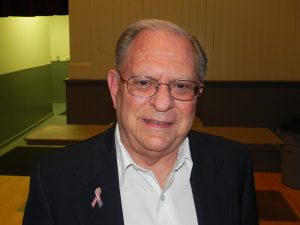 George Segarini

View Photos
Sonora, CA — The votes are in and the top two vote getters in the close Sonora City Council race say they are ready to get down to business. The final 190 provisional ballots were counted and Friday Tuolumne County Election Officials announced George Segarini had the top spot with 362 votes and Jim Garaventa took second with 359.
With the election behind them, both say the big issue facing the city is the budget. Segarini says, "We had been anticipating a better income for the city and it did not come through so we're skating on thin ice.  It is something we are going to have to be concentrating on here in the future." Garaventa says, "The biggest hurdle is just getting the revenue. We're really sales tax depended so how well the economy goes is how well we can provide for the city in terms of services and infrastructure. People don't want to be taxed, so it's just a matter of building a stronger business community so we have more revenue."
A top priority for both is the Vision Sonora Project in the downtown area. "I want to make sure we do it the right way and maintain our historical character, but modernize," says Garaventa, "I want to try to improve it so that people will spend more time downtown and make it a safer place for them to go." Segarini says, "We have to find the money to put the plan into action. That will be a major focus of the coming years for the council."
Each have some goals they want to tackle as they take their seats on the council. Garaventa says, "Maintaining public safety. I heard a lot during the campaign about people speeding on some of the residential streets.  I want to look at ways, kind of thinking outside the box, on how we can curb some of that speeding because police of course can't be everywhere." Segarini stresses water will be his focus. "I want the city to get more involved in the water situation. I want to make sure the city is involved in any discussions that are going on because the city has more water users with T.U.D. [Tuolumne Utilities District] than any other area of the county."
The final vote outcome put incumbent Matt Hawkins in third place with 351 votes and Mark Ferreira in fourth place with 346. Either one has ten days in which to call for a recount at their own financial expense.