Smoke Jumpers Help Battle Fire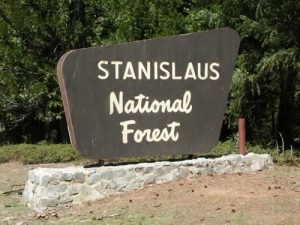 Stanislaus National Forest

View Photos
Stanislaus National Forest, CA — Some lightning in the region over recent days has led to some small fires up in the higher elevations of the Stanislaus National Forest.
"We had a few lightning strikes over the forest, and as dry as it is, it started a few fires up here in the wilderness areas," says Chris Schow, Stanislaus National Forest Fire Management Officer. "We had one near Hiram Lake in the Carson Iceberg Wilderness and another one in Underwood Canyon in the Mokelumne Wilderness. The one in Underwood Canyon was so remote that we decided to deploy smoke jumpers on the fire."
Smoke Jumpers arrive at the fire by parachute and quickly work to put in containment lines. The fire near Underwood Canyon is about an acre in size.
"We had 10 smoke jumpers on a plane out of Redding, and they got on it quickly and put a line around it," adds Schow. "They kept it at an acre, and they are spending time today mopping up and making sure it's good and out."
On a related note, it is a somber anniversary for the smoke jumpers. It was one year ago today that one of their comrades was killed fighting a similar type fire in the Modoc National Forest. 28-year-old Luke Sheehy was killed by a falling tree while he was helping to fight a fire in a remote location.