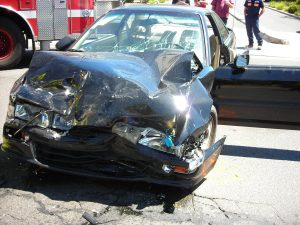 Collision on Mono Way Photo courtesy Sonora Police Department

View Photos
Sonora, CA — A man and woman were injured in a two vehicle wreck on Mono Way in front of the Timberhills Shopping Center.  The collision happened around 2:26 in the afternoon on Monday.
Sonora Police report 71-year-old Georgiana Rogers of Sonora in a 1991 Acura sedan was turning left onto Mono Way when she smashed into an oncoming 2007 Saturn SUV.  Police say Rogers did not see the SUV driven by 23-year-old Steven Olley of Sonora.
The impact of the collision entrapped Rogers in the car and emergency crews had to free her.  Rogers and Olley were both taken by ambulance to Sonora Regional Medical Center for treatment.
Rogers was cited for not yielding the right of way to oncoming traffic. Click here for a map of the crash site.