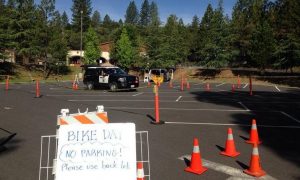 "Bike Day" Belleview Elementary Photo courtesy CHP

View Photos
Sonora, CA — More of you are hitting the roadways this Memorial Weekend on two instead of four wheels and that is making bike safety critical.
Just last week, Belleview Elementary in Sonora held its "Bike Day" where kids got a hands-on lesson on riding their bikes safely.  It appears more of these events are needed for older riders as well.  The National Highway Traffic Safety Administration reports a significant increase in the number of people killed in bicycle accidents in California.   According to state traffic data, in 2011 there were 142 bicyclists killed in collisions in California, which represents a 27 percent increase from the previous year. Those deaths accounted for 5 percent of the total collision fatalities in the state. Preliminary data from 2012 indicates a 5 percent increase from 2011.
CHP Spokesperson Nick Norton attributed the increase to distractions.  He says, "There's more distractions with cell phones, but it's not only the motorists.  Cyclists are also not paying attention to the road, like the cyclists that has ear buds in not allowing him to hear the traffic around him."
Beginning September 16 motorists will have a new rule of the road to obey in California. Drivers must give bicyclists three feet of clearance when passing or they must slow down and wait until it is safe to pass.