Jamestown Utility Worker And Deputies Attacked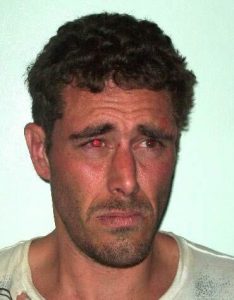 David Sean Johnson

View Photos
Tuolumne County, CA — A man is accused of attacking a utility worker, and later picking a fight with officials at the Tuolumne County Jail.
The Sheriff's Office reports that 32-year-old David Sean Johnson walked up to a utility worker on 5th Avenue in Jamestown yesterday and claimed that a cell phone in the work truck belonged to him. The utility worker explained to Johnson that it was a company phone. The utility worker became uncomfortable with the situation and picked up his orange cones and prepared to leave. As the worker went back towards his truck, Johnson allegedly blocked his path and claimed the truck belonged to him. Johnson then hit the worker in the face and a fight broke out. The utility worker yelled out for someone to call the police while the fight continued.
The CHP was the first to arrive and detained Johnson. Tuolumne County Sheriff's Deputies later responded and placed Johnson under arrest. The Sheriff's Office reports that he was in possession of a "dagger" type object, fireworks, and a "heavy bolt tied to the end of a rope." Johnson also proceeded to spit at the deputies, and screamed that he was, "The Star of David."
Johnson was placed in leg restraints and taken to Tuolumne County Jail. The Sheriff's Office reports that he later fought with jail staff and bit a deputy. Johnson was tased and placed into a restraint chair.
The utility worker injured his ankle in the incident and two deputies received minor injuries. Johnson is a transient.