Update: Summerville High Temporarily Closing Due To High COVID Numbers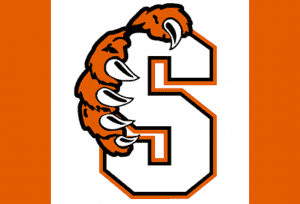 Summerville Bears logo

View Photo
Update at 3:30 p.m.: Clarke Broadcasting contacted Summerville Union High School District Superintendent Michael Merrill to get further clarification on the temporary shutdown of the campus at noon today and tomorrow for "an emergency school closure day."
"We just were seeing more numbers than we had seen pretty much all of last year in such a short amount of time," relayed Merrill. "We felt that this was going to be the best thing to do with an abundance of caution."
Regarding the spike in COVID-19  cases, he further detailed, "We've seen an increase in the number of cases in the last four days. We've had five positive cases. We're just getting to a point where staffing became difficult and the number of students that were under quarantine, both modified and at home, was increasing."
Currently, all students are required to wear masks while indoors. The modified quarantine lasted for up to ten days and allowed for vaccinated students that were found to be asymptomatic to attend school.  That is changing to a 'hard quarantine" with Merrill explaining, "What we're doing is we are moving away from the modified quarantine that doesn't seem to have worked as well for us as the hard quarantine that we used last year. If students are considered in close contact, then they will be sent home for the period of time that is expected. They can test on day five and if they have a negative test, they'll be able to return on day eight. The bottom line is we need to get ahead of this to make sure that we can contain it so it doesn't get worse."
Merrill noted that they have been working with Tuolumne County Public Health on COVID issues but after several calls, they were "not able to raise them before the decision had to be made. So, administratively we made the decision here." He added that when they got a hold of health officials they agreed it was the right move, sharing, "It made us feel that we had done the right thing. It was nice to know that public health was in agreement that that was what we should have done."
The school will continue to work with public health throughout the weekend carefully watching the COVID case numbers. The plan is to open on Tuesday, Sept. 7th, as the school is closed on Monday for the Labor Day holiday. Merrill stressed, "Our number one goal is to keep our school doors open and students to have access to all of our programs. We want to make sure that it is a safe environment.  We're trying to make the right decisions based on everything coming at us. The bottom line, we are going to be looking at whatever safety measure we need to be doing to make that happen."
All sports games and practices have been canceled including the J.V. and Varsity football games against the Waterford Wildcats on Friday (Sept. 3) night.  An email sent by Merrill to staff, parents, and students is below.
Original post at 1:20 p.m.: Tuolumne, CA – A spike in the number of COVID-19 cases at Summerville High School has forced administrators to send students home today and cancel classes for tomorrow.
In a released statement, Summerville Union High School District Superintendent Michael Merrill points to not only the rising numbers but those being quarantined. Below is the email sent out to parents, students and staff:
"Good Afternoon Summerville Community,
This is Michael Merrill Superintendent of Summerville Union High School District. We are seeing an increase in the number of positive COVID cases at Summerville High School campus as of today.  We are also seeing a large number of students on at home or modified quarantine due to being close contacts.
Therefore, out of an abundance of caution we are doing an early release at 12:00 pm (noontime) today prior to lunchtime and tomorrow will be an emergency school closure day. Food will not be served today or tomorrow due to a lack of staffing.
Buses will run their regular routes and will be departing as soon as they are loaded. Parents, please advise your student to ride the bus or pick them up.
We will no longer be doing modified quarantine, as the number of people impacted has increased.  Any students in the future that are considered close contacts will quarantine at home as was the process last year.
Thank you for your patience as we navigate the effects of this pandemic."
Additionally, the Friday (Sept. 3) night football games (J.V. and Varsity) against the Waterford Wildcats have been called off and no details on makeup games have yet been released. Also, tonight's volleyball game and all other sports practices have been canceled.
Merrill tells Clarke Broadcasting that the "expectation is to be back in school on Tuesday, September 7."