Update: San Andreas CHP Vehicle Involved In HWY 49 Crash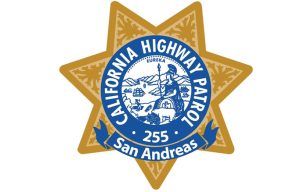 CHP San Andreas Unit logo

View Photo
Update at 7:08 p.m.: The San Andreas Unit CHP has released an update on a two-vehicle crash involving one of its officers this afternoon. The collision happened just after 2:30 p.m. on Highway 49 south of San Andreas as the officer was heading to a vehicle that was disabled and blocking the roadway on Highway 4 and Ponderosa Way in the Angels Camp area. CHP spokesperson Toby Butzler relayed that the patrol vehicle was not traveling at a high rate of speed or using its sirens and lights to get to the traffic hazard.
Butzler detailed that a 17-year-old female of San Andreas was stopped in a 2017 Hyundai Elantra on Magers Way, waiting to turn left (northbound) onto the highway. Traveling south on the highway in a CHP marked 2020 Chevrolet Tahoe at about 55 mph was 38-year-old Officer Jeremy Cooper, also of San Andreas. Butzler relayed that the teenager turned directly into the path of the patrol SUV. Officer Cooper tried to brake but the front of his patrol hit the driver's side door. The impact caused the patrol vehicle to go off the roadway and smash into a fence.  Butzler added, "Thankfully it was minor injuries to both parties involved. Officer Copper did get transported to the hospital just for precaution, but he's already been released." She was released to the care of a family member.
One-way traffic control was in place while the patients were being treated and a scene investigation was conducted. Noting that both vehicles were totaled Butzler stated, "It's a big loss to San Andreas being down a patrol vehicle. It takes a long time to replace a patrol vehicle. So, we'll be one less patrol vehicle for the time being and hopefully will get it replaced as quickly as possible."
The replacement vehicle will come from the Sacramento headquarters, which could take some time as it replaces patrol vehicles statewide.
Original post at 3:06 p.m.: San Andreas, CA — The CHP San Andreas Unit is reporting that one of its officers has been involved in a crash on Highway 49.
The two-vehicle collision happened around 2:45 p.m. as the officer was responding to a traffic hazard in the Angels Camp area at Highway 4 and Ponderosa Way. That traffic hazard involved a vehicle blocking the roadway, which has since been cleared, but no additional details were given. There is also no further information available on the officer-involved crash at this time regarding the cause of the wreck or injuries.  An update will be provided as soon as new information comes into the newsroom.