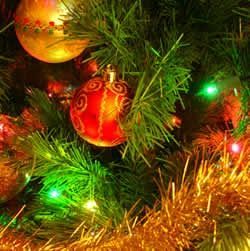 Christmas Tree Lights

View Photos
Many people no longer purchase live, cut Christmas trees to celebrate the winter holidays. There has been a reduction in the number of Christmas trees requiring disposal; it's no longer cost-effective for local garbage collection agencies to pick up live, cut trees at curbside.
There are many alternatives for foothill-friendly, smart ways to recycle our Christmas greens. University of California Cooperative Extension (UCCE) Master Gardeners and Tuolumne County's Solid Waste Division encourage Sierra Nevada residents to recycle their real Christmas trees.
You may wish to chip your Christmas tree and use it at home as mulch or compost. Or, you could try your hand at an increasingly popular technique called hugelkultur, employed in Europe for centuries. Hugelkultur utilizes branches, logs and other woody debris to create a moisture-retaining planting bed. The mounded bed-topped with a layer of compost, leafy detritus and/or top soil-composts the woody waste on site while growing plants on the surface of the raised bed. There are many internet references to hugelkultur techniques.
You may want to help reduce the waste stream by recycling your real Christmas trees through a local drop-off site. First, remove all decorations, tinsel, metal tree stands and nails. Also, some trees may have a metal supporting rod in the trunk that must be removed.
Local garbage collection companies, the Big Oak Flat/Groveland Transfer Station and the Cal Sierra/Waste Management Earth Resource Facility (ERF) are accepting Christmas trees on a limited basis for FREE under certain conditions. In addition, options are available for Calaveras County (see below).
TREE DROP-OFF LOCATIONS:
Big Oak Flat/Groveland Transfer Station at the end of Merrell Road (10700 Merrell Rd) will accept clean trees AT NO CHARGE during regular business hours, 8:00 am to 3:45 pm, Wednesday and Saturday only, through the month of January. Flocked trees will be charged regular disposal rate.
Cal Sierra/Waste Management Earth Resource Facility (ERF) on Camage Avenue, off of Tuolumne Road, near Standard will accept clean, whole trees AT NO CHARGE during regular business hours, 9:00 am to 4:00 pm, closed 12:00 pm – 1:00 pm, Tuesday thru Saturday, through the month of January. NO FLOCKED TREES. All other green waste will be at the regular charge.
For Calaveras County residents only, according to Earth911.com, the Red Hill Transfer Station in Vallecito and the Copperopolis Transfer Station on O'Byrnes Ferry Road accept Christmas trees with all ornaments, tinsel, lights and stands removed.
Cardboard and paper: None of the drop-off sites accept Christmas wrapping paper or trash. Cardboard can be reused for shipping, used as a base layer for weed control under mulch, or can be recycled through local multi-bin collection systems or at transfer stations. Christmas wrapping paper, tissue and cards can be reused (if not too badly damaged) or run through a paper shredder to create colorful "confetti" packing materials.
Earth911: http://earth911.com/recycling/ is a comprehensive website that provides a searchable list of recycling opportunities, ranging from greener gift-wrapping alternatives to plants you can grow from vegetable scraps.
Please support your community by recycling your holiday materials this holiday season.
Rebecca Miller-Cripps, retired UCCE Natural Resources Program staffer, will be returning to UC employment in January, 2014, to develop a local California Naturalist training program.