New COVID-19 Variant Found In California, Dr. Fauci Comments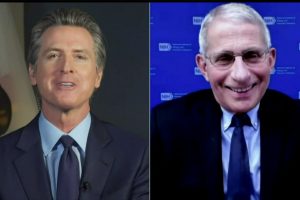 Gov. Gavin Newsom discusses COVID-19 pandemic with Dr. Anthony Fauci

View Photo
Sacramento, CA — A more contagious variant of the coronavirus has been found in California, where state health officials are warning people to avoid New Year's Eve gatherings.
During an online conversation with Dr. Anthony Fauci, the nation's leading infectious-disease expert Wednesday, Newsom first reported that a new variant was found in a 30-year-old San Diego County man.
"First of all, I'm not surprised that you have a case and likely more cases in California. I don't think Californians should think that this is odd; it's to be expected," noted Fauci.
The case in California comes a day after the first variant case was found in Colorado involving a National Guardsman in his 20s who had last week been sent to a nursing home struggling with an outbreak.
"There's no indication that it increases the virulence, and by virulence, I mean the ability to make you sick or kill you. It doesn't seem to make it more strong in that regard. In addition, it doesn't seem to evade the protection that's afforded by the antibodies that are induced by vaccines," advises Fauci.
There is also some positive news regarding infections. "People that have been infected don't seem to get reinfected by this, which means that the immunity that is given to you when you get infected is protected against this particular strain," relays Fauci
California is consumed by a growing pandemic crisis with record deaths. Hospitals are increasingly stretched by soaring infections that are expected to climb in coming weeks, which is keeping the governor's stay-at-home orders in place for much of the state, which some argue is hurting the economy.
Fauci counters, "We need to use public health measures as a vehicle, a gateway, a tool to get the economy back. It isn't the economy versus public health. It's public health bridging you to getting the economy back."
With Los Angeles County reaching the grim milestone of more than 10,000 deaths, Southern California, and the San Joaquin Valley regions, which includes Tuolumne, Calaveras and Mariposa, have what is considered no intensive care capacity to treat patients suffering from the coronavirus. State health officials say another surge in hospitalizations and deaths could come if people ignore social distancing. And they remain worried about gatherings tied to New Year's Eve.
But there are some bright spots. The statewide transmission rate has fallen to the point where one infected person is in turn infecting just one other individual, a development that Newsom called encouraging. Also, hope is on the horizon as the vaccine rollout has begun.
Fauci urges, "If you have the opportunity to get vaccinated, please get vaccinated. It's a safe and a highly efficacious vaccine that could save your life, the life of your family, and the community."