Family Evacuation Checklist
Create a family disaster plan to include any major emergency that may occur and make a list of things to do and take in the event of an evacuation.
Discuss the types of disasters that are most likely to happen and explain what each family member should do in that situation.
Have all emergency phone numbers posted in a good location in your home including the phone numbers of your neighbors.
If you see a fire approaching your home call 911.
Create an evacuation plan for your home and practice this plan every six months. Conduct emergency drills with your family.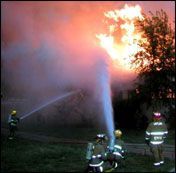 Pick two places to meet:

Right outside the home.
Outside the neighborhood if you can't remain near your home.

Know all escape routes in your neighborhood and discuss them with your family.
Discuss what to do in an evacuation with your pets and livestock.
Be prepared at all times with a three-day supply of food (that does not need refrigeration or cooking), a three-day supply of water, portable radio, flashlight with extra batteries, lanterns, first aid supplies.
Keep your car parked facing the direction of your escape with windows closed, doors unlocked. Have emergency supplies in your car before the evacuation order is issued.
Leave a light on in your home and outside, close all windows, doors, chimney flues, close heavy drapes and blinds, remove all flimsy curtains and any furniture away from windows
If time permits: place a ladder next to your home for firefighters, turn off gas or propane, fill tubs and sinks with water and put towels in each for firefighters use, place garbage cans on deck and fill with water, put ladders and garden hose outside so firefighters can use them.
Tell someone you are evacuating and post where you are going with a phone number (if possible) on the front of your house.
Take enough clothes for several days, eyeglasses, dentures, things you can't not easily replace i.e. photos, mementos, recipes, prescription drugs, insurance papers, checkbook, money, credit cards, deeds and titles.
If you are trapped by fire while evacuating in your car, park in an area clear of vegetation, close all vehicle windows and vents, cover yourself with a jacket and lie on the floor.
If you and your family are trapped by fire while evacuating on foot (stay together), select an area clear of vegetation along a road, or lie in the road ditch. Cover any exposed skin with a jacket or blanket. Avoid canyons that can concentrate and channel fire.
Register your evacuation location with the emergency shelter in the area. This is a suggested preparation list and should be tailored to your families needs. Consult your local fire department or the CA Department of Forestry for additional tips in surviving a wildland fire or disaster.
Provided with kind permission from the Amador Firesafe Council.