Disaster Preparedness for a Flood
Here is a guide for what to do during a flood. Details on how to prepare in advance, how to manage during the flood, and how to cope afterward.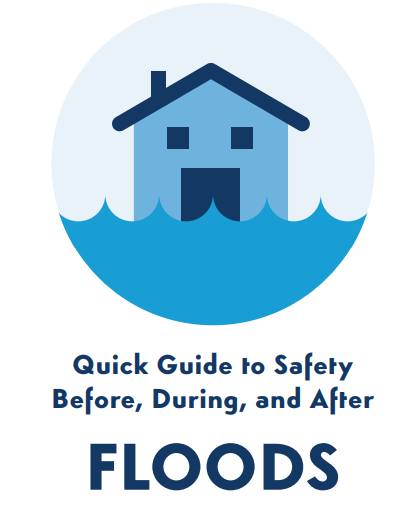 Move valuables to higher shelves or floors.
Keep nearby storm drains clear of debris.
Get plastic tarps and sandbags to block floodwater. Our extreme weather page will have the most current sandbag information.
Learn the best escape route to higher ground.
Plan transportation to get everyone, including pets and livestock, to safety.
Keep your car's gas tank at least half full.
Plan for power outages, especially for any medical devices powered by electricity and refrigerated medicines. Charge devices and backup batteries.
Be ready to shelter in place with some gallon jugs of water, food you could eat if there is no power, and other items that you use every day. A detailed checklist is on our evacuation page here.
Talk to neighbors about how you could work together to help keep each other safe.
Follow reliable sources of information. Dial 2-1-1 or 3-1-1 to get help, find shelter, or ask questions.
Leave immediately when told by officials to go.
Never walk into moving water. Just six inches of moving water can make you fall.
Never drive into flooded areas. A foot of water will float many vehicles; two feet can sweep away a truck.
If trapped inside by floodwaters, move to higher floors or roof, but not attics. Call 9-1-1.
Avoid contact with floodwater.
Stay alert for mudslides near burn scars.
Check in with family, friends, and neighbors. If cell towers are down or overrun, try texting.
Wait until officials say it is safe to go home. If you can't go home, dial 2-1-1 to find safe shelter.
Beware of falling trees and damaged structures.
Check for gas leaks and downed power lines. If gas or electrical appliances were flooded, check them for safety before using them.
Listen for official announcements on the safety of public water. Wells that flooded should be tested and disinfected.
Be aware potential hazardous chemicals may have been moved or buried by flooding.
If you have flood damage, contact your local emergency manager. Find other recovery resources on government websites.
Disaster Preparedness for Dog and Cat Owners
In the event of an evacuation, pets may not be allowed inside human emergency shelters. Determine the best place to leave your pet in case of a disaster. Identify an off-site location as well as a place in your home. Dogs and cats should always wear properly fitting collars, personal identification, rabies, and license tags.
Disaster Preparedness for Horse Owners
Determine the best place for animal confinement in case of a disaster. Find alternate water sources in case power is lost and pumps are not working or have a hand pump installed. You should have a minimum of three days feed and water on hand.
Family Evacuation Checklist
Create a family disaster plan to include any major emergency that may occur and make a list of things to do and take in the event of an evacuation. Here you will find seventeen steps from simply creating a family disaster plan to registering your evacuation location with the emergency shelter in the area.
FCC/FEMA Tips for Communicating During an Emergency
Here you will find eleven tips that the FCC and FEMA recommend for Communicating During an Emergency.