Murphys Park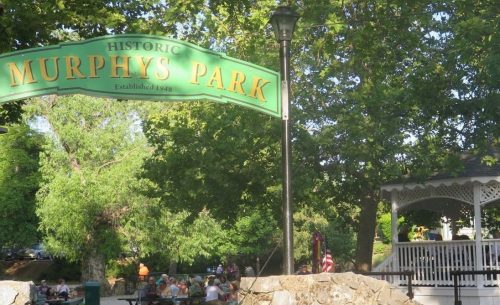 The Murphys Community Park is maintained by a non-profit volunteer organization called Murphys Community Club (MCC) created in 1948. Murphys Park is managed and  maintained through membership dues, donations, park rental fees and use fees for special events.
The park has a children's playground, lawn area, a few bridges over Murphys Creek, restrooms, a gazebo and newly constructed bocce ball courts.
The 2 bocce courts behind Murphys Historic Hotel are available for public use from 9:00 a.m. to sundown daily (unless already rented). Players must register at the front desk of the Murphys Hotel to make a reservation and ensure availability. There is no charge if players have their own set of balls, however, a set of balls may be rented from the hotel desk for $12/one court for 2 hours. There is a rental fee for tournaments and a reservation may be secured by calling (209) 728-8183.
The Murphys Homecoming event and summer concerts are a few of the annual fundraising events held at the park. The park also hosts the Grape Stomp and is open during Murphys St. Patrick's Day parade, summer concerts and Dia De Muertos at the end of October/early November.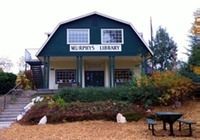 The park has recovered from being completely flooded by excessive rainfall in February 2017 but was also flooded again in the winter of 2019.
Notably the park is adjacent to the barn shaped Murphys Library.
The Park Reservation Coordinator is responsible for the reservations for all park events. For reservations, call the Park Reservation Coordinator at (209) 728-8183. Detailed pricing information is here.
If you want to stay in the Mother Lode take a look our list of places to stay.
Planning a wedding, conference or other event? Take a look our list of places to host your event.
Tell us about your experience at this place! Contact Us