Mercer Caverns
The 192 feet deep and a total of 3,389 feet surveyed Mercer Caverns are open for guided tours year round. Mercer Caverns has been toured by visitors since it was discovered in 1885. Like the three other, very large caves in Calaveras County, there are stairs and lights where ropes and candles were once used. The underground caverns are filled with a large array of cave formations like stalactities, stalagmites, flowstones and delicate crystalline formations.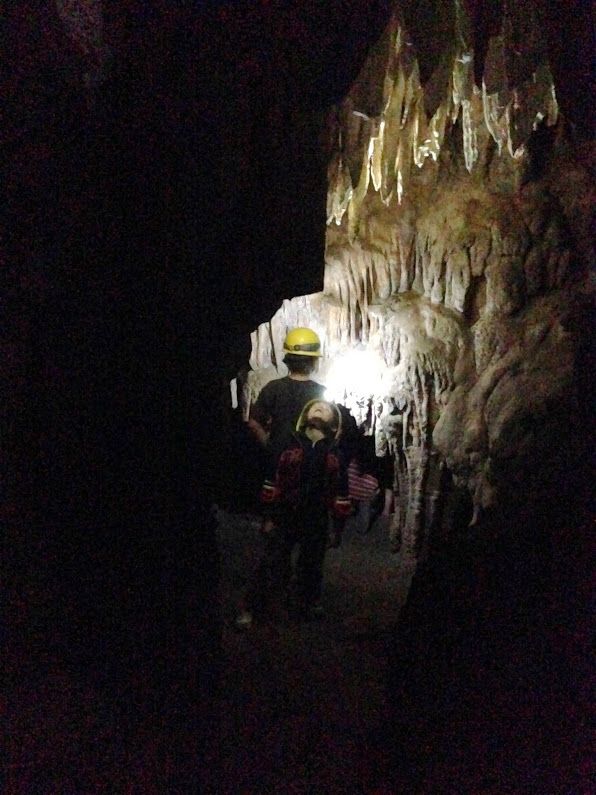 Mercer Caverns are the longest continually operating commercial caverns in the state of California with guest books signed by paying customers dating all the way back to the month it was first found by Walter J. Mercer.
Skeletal remains of six people were removed from the cave. The four adults, one child and one infant belonged to members of the Mi-Wuk tribe of native Americans who lived in the area some 1500 to 2000 years ago. Also found in the cave was a Sierra Ground Sloth, an extinct animal the size of a small bear. Walter J. Mercer died at the age of 46 of spinal meningitis after he injured his back falling in the cave 12 years earlier. His wife, daughter and her husband managed the caves they called "New Calaveras" meaning "New Place of Skulls" until it was sold in 1946. Sterling and Vivian Carter renamed the cave Mercer Caverns and installed lights with the help of PG&E.
Visiting Mercer Caverns in Murphys is a great experience for the whole family. There are many platforms to rest and plenty to look at on the 161 feet or about 16 stories down. The tour is about a quarter of a mile (402 meters) there are a total of 440 steps, many are along steep, narrow stairways but there is no crawling. It is 55 degrees Fahrenheit all year with 90% humidity.
In 1985 the Golden Gate Grotto of the National Speleological Society mapped the caverns. Bruce Rogers, USGS, Charmaine Legge, and Paul Decker, were the three that produced the first known map of Mercer Caverns.
A copy of the map of the caverns drawn by Bruce Rogers is on display at the Caverns with a view of how the cave would look like from the air if you could see through the dirt above it and as side profile of how deep it is. The map also be viewed here and shows both the tour regions and areas not visited on the tours.
For prices visit Mercer Caverns.
If you want to stay in the Mother Lode take a look our list of places to stay.
Planning a wedding, conference or other event? Take a look our list of places to host your event.
Tell us about your experience at this place! Contact Us