Closing the Retirement Gap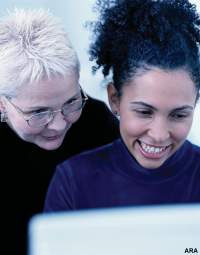 (ARA) – Though most women admit they are concerned about their financial future, many continue to lag behind when it comes to preparing for retirement. And they know it. According to a recently released study by Prudential Financial, Inc., entitled Financial Experience and Behaviors Among Women, a whopping 62 percent of women gave themselves a grade of 'C' or lower when it came to their knowledge of financial products and services.
Women remain clear about their financial goals, but many are not taking action. A lack of confidence and knowledge – along with the interference of more immediate responsibilities – are combining to sidetrack even those with the best of intentions.
Prudential has been conducting this informative study biannually for six years, and since the survey's inception, little progress has been made in terms of women's confidence levels in achieving their financial goals.
Some key findings for 2006:

Only one in five women feel very well prepared to make wise financial decisions.
Forty-three percent listed 'getting out of debt' as their primary financial goal.
In 2004, over half of the women polled intended to save and invest more money over the next 12 months; 2006 data reveals in the past 24 months only 11 percent invested in stocks or mutual funds.
Also in 2004, 41 percent intended to meet with an advisor, while only 24 percent actually did.
Very few women have discussed the potential risks of needing long-term care with their parents (19 percent) or children (14 percent).
Women understand life insurance, but are falling short in acquiring the coverage needed to protect their families. In fact, over two-thirds of those polled don't have a plan in place.
If You Don't Prioritize Your Financial Future, Who Will?
The Prudential study highlights a common behavioral pattern in women: putting the needs of others before their own. As employees, business owners, volunteers, wives, mothers and daughters, women typically place themselves at the bottom of the priority list, and find little time left over to devote to financial matters. Unfortunately, putting retirement planning off for a rainy day will leave many women out in the cold. Some questions to ask yourself now:
Will you have enough money to maintain your current standard of living in retirement? What will be your sources of income? What role will Social Security play?
Do you want to stay in your home after retirement or sell it and downsize? Is a reverse mortgage a viable option for retirement income?
If your spouse dies before you, will you be able to maintain your standard of living? Keep in mind that the retirement income of your spouse could be reduced or eliminated in the event of his death. And many of us continue to have responsibilities for children, grandchildren or aging parents into retirement.
Do you have a plan if the need for long-term care services arises?
Do you plan to work during retirement? If so, for how long?
Knowledge is Power
According to the Prudential survey, a big 'disconnect' exists between what women know they should do and what they actually do in relation to their personal finances. One of the best moves you can make immediately is to educate yourself on the basics. Take a weekend seminar. Search the Internet for information. Read a book. Speak to with a financial professional. Investing a few hours in your financial education will pay big dividends in the future. In addition, use the following checklist to consider ways to start moving your future securely into the black. Be sure to discuss these ideas with your tax and legal advisors to determine the best options for your personal situation:
Contribute the maximum amount to retirement plans. Pay yourself first.
If you're single don't count on someone else to help you – look out for number one.
If you're married, take an active part in household money matters. And be sure to establish a credit history in your own name.
Ensure that your assets will be distributed according to your wishes with a will or trust.
Review your insurance needs including life, disability and long-term care. Longer life spans. Increased responsibilities in retirement. Less social security benefits. Smaller pensions. Whatever the reason, as a woman the reality is that in all likelihood you will need more retirement income than you think – and you and you alone are the one who must make sure it is there when the time comes. Taking even small steps in the right direction now will boost both your financial planning confidence and your bottom line.
To see the complete study results, log on to www.prudential.comCourtesy of ARA Content
---