Hitting Retirees and Baby Boomers Where it Hurts Most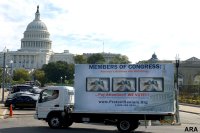 (ARA) – An estimated 20 million baby boomers and retirees in the United States are bearing the brunt of recent major corporate employers' moves to eliminate or drastically reduce healthcare benefits promised to their employees during their working careers.
Those either at or nearing retirement age, who claim these are earned benefits, have been shocked to find out that federal law finds it perfectly legal for a company to take away such benefits, even if mandated by employment contract.
C. William Jones, a retiree from NYNEX, now a part of Verizon says, 'Millions of people from my generation dedicated a lifetime to one employer with the promise that if we accepted lower pay scales in our working years, we would be provided health benefits in retirement.'
Early in 2006, Jones, a Maryland resident, got together with retiree leaders from Florida, Massachusetts, New Jersey, New York, Pennsylvania and Virginia, to form a nationwide legislative and lobbying organization they appropriately named ProtectSeniors.Org.
The organization, which has attracted over 43,000 members in the first six months since its founding, is advocating for emergency federal legislation that would help tens-of-millions of affected older Americans.
ProtectSeniors.Org is advocating in Congress for the Emergency Retiree Health Benefits Protection Act (HR 1322) which would amend the ERISA pension laws to make it illegal for an employer to either reduce or cancel earned health benefits after an employee has retired. It would also require corporations who have already slashed these earned benefits to reinstate them to their former workers.
In recent years, many of the largest and most well-known American corporations have been canceling or drastically reducing those health benefit protections for their current and retired employees, citing cost and global competition.
Yet while millions of retirees have cried foul, even the courts have rejected their call for help. The U.S. Supreme Court has previously upheld a decision against employees at General Motors, allowing the company to rescind benefits for retired GM managers and their spouses.
In an attempt to turn the tide, ProtectSeniors.Org opened a Washington, D.C. office and hired its own lobbyist to work the halls of Congress. All in an effort to regain ground they say has been lost to lawyers and lobbyists representing deep pocketed corporate interests. Jones says the group's goal is to harness the voting clout of baby boomers and retirees to change unfavorable rules which allow corporations to take advantage of retirees.
Jones, who serves as chairman of ProtectSeniors.Org says, 'The goal of the ProtectSeniors.Org campaign is to let CEOs and elected officials know that the time has come to reverse the national trend and make it illegal to steal retirees' earned benefits. Retirees are now the single largest voting block in America, we are getting stronger and we are determined to make sure that our benefits are protected.'
Just this fall, the group launched a 2,000-mile retiree pilgrimage to travel through dozens of cities and towns in seven states and the nation's capitol to raise public awareness of retirees' plight.
The caravan's visible presence starts with a giant 16 foot long by 8 foot tall mobile billboard that reads: 'Members of Congress, America's Retirees Are Watching… Pay Attention! We Vote!' Along the travel route retirees are holding local events to highlight for Members of Congress and the public how unjust the rules are, thus the dire need to change current retirement laws.
Jim Casey, who spent his career at C&P Telephone and is president of ProtectSeniors.Org, notes, 'Retiree healthcare benefits, an important component of the compensation package, were a benefit earned and already paid for throughout careers spanning 20, 30 or even 40 years and are not a gift from a benevolent employer as CEOs today try to suggest.'
He goes on, 'ProtectSeniors.Org is focusing on organizing the national over 55 and retiree populations, especially those who use the Internet, to take on a greater ownership stake and effort in the protection of their own economic future. ProtectSeniors.Org is open to anyone concerned about the protection of their earned retiree benefit rights.'
To find out more about programs and campaigns run nationally by ProtectSeniors.Org call (800) 398-3044 or visit www.protectseniors.orgCourtesy of ARA Content
---