Financial Tips Help Holiday Shoppers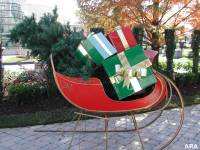 (ARA) – The holidays are a time of wonder, surprises and good things to eat. But when the New Year rolls in, we often receive an unwelcome surprise in our credit card bill and we wonder how we spent so much money. This season, get to know your financial situation before you start shopping and give yourself the gift of good financial management.
Find out where you stand by reviewing your credit report. Your credit report contains information about your identity, what kind of credit accounts you have, and how you pay your bills. There are three national credit reporting agencies. Because not all lenders or creditors report their information to all three agencies, your credit report may vary from one agency to another, so it's important to check all three for accuracy.
It's easy to do this by purchasing a 3-in-1 credit report – containing information from all three national credit reporting agencies in a single convenient report.
Get a Jump Start on Financial Planning
To take stock of your financial obligations, add up all of your monthly payments. A good place to start is with the monthly payments listed on your credit report for all of your accounts. Add in other ongoing expenses such as utilities, insurance, groceries, medical, etc. See how this compares this to your monthly net income. Once you are familiar with your current financial standing, you can make better decisions in setting your holiday budget.
Make New Year's Resolutions Early
Most of us wait until January 1 to think about our goals for the next year. By that time, we may have already set ourselves back without realizing it. It is important to remember that new debt you add over the holidays may lower your credit score – the yardstick used by financial institutions, lenders and even insurance companies, to assess your credit worthiness. If you're looking to make a major purchase such as a car or a house, you'll want your credit score to be as high as possible. Keeping those goals in mind can motivate you to set realistic budgets for holiday spending.
Consider the True Cost
When you pay for a gift with cash, you know exactly what it costs. If you splurge on a $200 item with credit card debt and only pay the minimum payment each month, it could end up costing you over $300 by the time you pay interest charges. Carefully evaluate whether you want to use debt to pay for holiday purchases and if you do, use a credit card with the lowest interest rate and pay the debt off as soon as possible.
If you are looking for a gift that can help a friend or loved one chart their own path to a solid financial future, think about giving a gift certificate for a 3-in-1 Credit Report from Equifax. You can also give an Equifax Gift Certificate for a range of products including credit monitoring and credit scores. Visit Equifax.com to learn more.
Courtesy of ARA Content
---