Keep Your Personal Information Safe at Tax Time and All the Time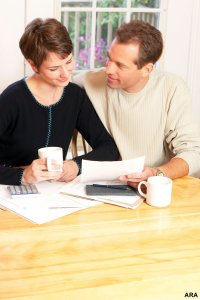 (ARA) – Ahh, tax time. The smell of freshly sharpened pencils, the clicking of the calculator keys, the satisfaction of figuring out the tax forms. What? That doesn't sound familiar? Perhaps this is more your experience: the smell of sweat as you realize you can't find key receipts, the silent scream you utter when the numbers don't balance for the tenth time, the agony of trying to figure out which forms you need.
Whichever camp you belong to, the simple fact is that tax time can't be avoided. So as long as you've got all your financial information out of the file box, why not make the most of the occasion and devote a few extra minutes to checking your credit report, as well as taking some easy steps to protect your private information?
Theft of financial information, like its cousin, identify theft, is on the rise. According to the latest Experian-Gallup Personal Credit Index survey at www.PersonalCreditIndex.com, one in five consumers report that they have had their financial information stolen, including a bank or credit card number. In addition, one in seven people say they have had their personal information stolen, such as a birth certificate, driver's license or Social Security number.
'These numbers are alarming,' says Maxine Sweet, vice president of public education for Experian, a global information solutions company. 'However, there are simple steps that consumers can take to help protect their financial and personal information.'
As you gather up the forms you need to complete your taxes, take a good look at the information they contain. From credit card receipts to property tax statements, mortgage interest statements, W-2 forms and more, the information on these forms is a goldmine for someone who wants to use your good credit to their advantage. And with the growth of online shopping and electronic record keeping, it's not just a paper trail you have to worry about.
Once you start noticing all the places your information shows up, it can make you a little nervous. But there are simple steps you can take to protect that information.
Start protecting your information by requesting a copy of your credit report at www.Experian.com and scanning your credit history and any recent changes to make sure the report is accurate. If you notice anything questionable, such as accounts you don't recognize, it is possible that someone has used stolen information to open accounts in your name. Contact the creditor and the credit reporting companies to report this; they can help you take the necessary steps to correct your credit report and protect your accounts.
Always shred sensitive information, including credit card statements, pay stubs and anything else with personal data on it. Personal shredders are available in office supply stores for under $20. 'To some consumers, shredding personal documents may seem like overkill, but it only takes a second and it is a sure way to protect your personal information,' says Sweet.
If you receive pre-approved mailings from credit card companies looking for your business, shred them as well if you do not wish to open an account. Do the same with any blank checks your credit card company sends you if you don't plan to use them.
Don't give out personal or financial information to friends and family unless absolutely necessary. The Experian-Gallup Survey showed that 21 percent of those who had experienced personal or financial information theft said they knew the person who stole the information.
Never provide personal or financial information to an unknown source.
Invest in anti-hacking software to keep the information on your computer safe.
Review your credit report periodically. To make it easier, you can subscribe to a credit monitoring product that will alert you to changes in your credit report including inquiries, new accounts, late payments and more.
For more information on protecting your credit, visit www.Experian.com.
Courtesy of ARA Content
Sponsored by: Peter M. Galde who is the founder and principal at Cornerstone Capital Funding, 14520 Mono Way, Suite 110, Sonora Ca. 95370. Peter has 28 years experience in the finance industry. E mail Peter or call him on 209 532 7711 for further information.
---