Survey Says Generation X Should Learn from Boomers' Retirement Planning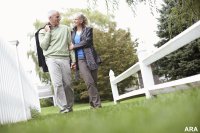 (ARA) – 'Learn from your elders' is a phrase we hear often, but in the case of planning for retirement, we should all listen up. As baby boomers near their golden years, they bring mixed reactions to retirement including optimism, worry, and perhaps a slight tinge of regret.
According to new survey of 2,500 adults ages 45 to 64, conducted by Thrivent Financial for Lutherans, pre-retirees are generally optimistic, but regret they didn't start planning for retirement sooner. A lesson Generation X can listen to and learn from.
A majority (56 percent) of those surveyed expect to enjoy a standard of living equal to or better than their parents, but 59 percent of them have not done any formal retirement planning, either with a financial professional or on their own. Seventy-one percent feel a lack of money in retirement may prevent them from accomplishing their goals, with another 71 percent wishing they had started saving at their first full-time job.
Even though one in four baby boomers haven't started saving for retirement themselves, a whopping 86 percent advised Generation X to start saving for retirement as soon as possible.
While the example that pre-retirees give might sound like a cautionary tale, baby boomers are still looking forward to retirement. Forty-five percent plan to travel the United States, 39 percent plan to spend more time with family, and 23 percent plan to take up new hobbies and activities.
But even with these positive plans, nearly half of all boomers will expect to work in their future. Forty-three percent plan to work either full- or part-time in retirement with 39 percent planning on needing the income and nearly one-third working to stay busy. No one wants to work too hard during retirement though, because 43 percent surveyed want a job that they can enjoy that isn't too stressful.
Despite 58 percent of boomers having resisted temptations such as vacations, vehicles and impulse shopping to save for retirement, the realities of life have prevented most from saving as much as they'd like. Thirty-five percent say starting too late, followed closely by health care costs (32 percent), low-paying jobs (29 percent) and credit card debt (28 percent) have been obstacles for saving for retirement.
'These survey results have shown us that planning ahead for our retirement is something that is necessary to ensure a comfortable financial future,' said Pam Moret, executive vice president of marketing and products for Thrivent Financial. 'For baby boomers, it's not too late to improve your situation, and for younger generations, planning as soon as possible is a wise decision.'
Not only is retirement a reason to save, but unanticipated life situations could affect saving in the future, which is why it is important to start as soon as possible. An illness is the number one unexpected situation that could impact a respondent's retirement plan.
Survey results also reveal retirement preparation is a family affair, with 41 percent planning to talk with other family members and 37 percent planning to confer with adult children. Talking with family and a financial professional can give necessary insight into the realities of retirement and what needs to happen today to be able to plan for the future that you want. Visit www.thrivent.com for additional information on retirement planning.
Baby boomers view retirement as an opportunity to take a step back and reflect on their life. Thirty-five percent selected 'The Long and Winding Road' as the song lyric that most closely resembled their vision of retirement. If Generation X strives for the boomers' retirement ideals, planning ahead is the best way to ensure the retirement years are golden.
Courtesy of ARA Content
Sponsored by Peter M. Galde who is the founder and principal at Cornerstone Capital Funding, 14520 Mono Way, Suite 110, Sonora Ca. 95370. Peter has 28 years experience in the finance industry. E mail Peter or call him on 209 532 7711 for further information.
---