Simple, Flexible Options Appeal to Consumers Who Want 'More' From a Mortgage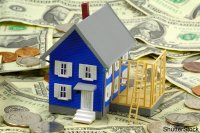 (ARA) – Simplicity is the hot new trend among today's consumers. From the clean design of consumer technology products like the Apple iPod to the convenience of healthy, ready-to-eat four course meals right from the grocer, consumers are looking for innovative new approaches that simplify their world while providing the flexibility and control they need to enjoy their lifestyle to the fullest.
Even home mortgages are being designed with flexible features that allow homeowners to adjust the terms of their loan without refinancing or tap into their home's equity without applying for a separate line of credit. Gone are the mountains of additional paperwork, hidden fees and closing anxiety that have characterized the process of obtaining a new mortgage or refinancing an existing one.
'People can simplify and customize most every other aspect of their lives, so why not the terms and features of their mortgage?' asks David Schneider, president of the Home Loans group at WaMu, one of the nation's leading consumer and small business banks.
With another home buying season under way, mortgage lenders are finding new ways to answer that question by offering mortgage products that provide simplicity, flexibility and value to their borrowers. WaMu, for example, is offering homeowners with good credit and a minimum down payment of 10 percent a new product called WaMu Mortgage Plus which combines a first mortgage and home equity line of credit into a single loan with terms consumers can simply, quickly and affordably customize as their financial and other needs change.
WaMu Mortgage Plus offers borrowers a wide range of flexible payment options and the ability to instantly tap into the home's equity as principal is paid down to cover the cost of remodeling, college tuition, or to consolidate higher-interest debt, for example.
But one of its most unique features allows borrowers to quickly and easily reset their interest rate to take advantage of changing interest rates or personal financial circumstances. Let's say a borrower has a fixed rate mortgage at 6.5 percent but fixed rates fall to 5.5 percent. With WaMu Mortgage Plus, they can reset their interest rate to the lower fixed rate in as little as 15 minutes simply by making a telephone call or visiting any WaMu location. That compares with the 30 to 90 days it typically takes to close a refinance transaction, depending on market conditions and other factors.
Those who follow mortgage trends say consumers who closely monitor the impact of interest rates on their financial situation and want the ability to fine-tune their mortgage as part of their overall financial portfolio will be especially attracted to WaMu's new product. The ability to tap into their home's equity without additional time-consuming paperwork or hassle appeals to many consumers, adds Schneider.
For example, a homeowner who purchases a $400,000 home with 10 percent down ($40,000) is eligible to put the home's equity to work as soon as the loan's principal begins to be paid down. Parents with children will appreciate the fact that by paying down the principal by $20,000, for example, they will have instant access to that same amount in equity, saving them the time, hassle and added cost of refinancing when their teens are ready to head off to college.
'Consumers today are extremely sophisticated when it comes to selecting a mortgage product, and they have told us they wanted a product that fits in with the way they manage their other financial assets,' says Schneider. 'We believe that if consumers could design the perfect mortgage, this would be it. For many people, this may be the last mortgage they'll ever need.'
Courtesy of ARAcontent